Positive or its Pointless Campaign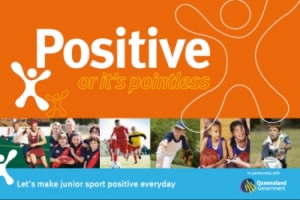 Positive or It's Pointless (POIp) is a program forming part of Sport and Recreation services(Department of Communities) Player Behaviour Framework designed to facilitate a change of culture within team sports that eliminates poor and unacceptable player and spectator behaviour at junior fixtures. Its aim is to create positive sporting experiences which have the effect of indirectly increasing participation in sport and the number of volunteers. The associated Equipment program supports this by providing an incentive for identified team sport clubs to develop and implement a POIp positive behaviour program within their club.
Objective
The Program will provide one-off funding to assist sporting clubs, which have developed a Positive Behaviour Plan outlining how they will implement the Plan over twelve months (12), to purchase sporting equipment relevant to their club.
The POIP Positive Behaviour Plan will cover:
display of POIp posters in clubhouses and other appropriate places for the term of the season
distribution of POIp brochures and stickers to all club members and their families and club officials
development and communication to all members and officials of a player behaviour policy
establishment of a POIp dedicated match day
attendance by members and officials at any POIp training and education workshops/forums identified by Sport and Recreation services.
completion of the Play By the Rules online training package by club officials, administrators and members, and
presentation of an annual award to the Most Positive Supporter.
What assistance is available?
The program provides assistance towards the purchase of training and playing equipment (e.g. hockey sticks, bats, balls, tackle bags, portable nets, field markers etc) relevant to the particular sporting club. The level of funding provided is dependant on the number of junior players.
SWQ has received this assistance and have purchased training eqipment, ( New Nike training balls) therefore we now need to implement our Positive Behaviour Plan.
Click below for documents relatiing to the POIP