Information for New Referees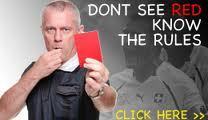 Hello and thankyou for considering becoming a footbal referee.
If you decide to become a referee you will be joining an elite group of people who are always willing to help you when needed.
Refereeing is challenging but also very rewarding. By refereeing you will gain more fitness and a better knowledge of the game.
Becoming a referee is now much easier as Football Queensland is covering the cost for the level 4 course, however there a $10 fee charged by FNQ Football for lunch.
To become a referee you must FIRST complete the ON LINE LAWS OF THE GAME interactive video /course. When completed print off your certificate as evidence. Then you can download the level 4 referee workbook and resourse book 2015. Upon completion of the workbook, you can register for a course which will be conducted by our Local Referees Instructor, course dates when set are available on the FFA Referee Website
You must then register at the zone office to complete a video analysis on foul recognition (date to be advised) e: admin@fnqfootball.com.au
ON LINE LAWS OF THE GAME
http://laws.myfootballclub.com.au/
General information
Active referees must register as a referee on http://myfootballclub.com.au
Registration fees are $90.00 for a junior referee and $140.00 for a senior referee. You will also need to purchase a uniform from the zone office
Yours sincerely
Angelo Capaldi
Chairperson – Referees Standing Committee