AUSKICK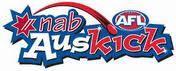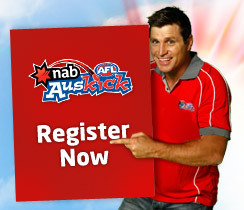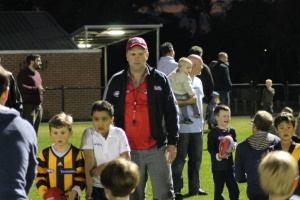 After another successful season in 2014, The Mitcham Junior Football Club NAB AFL Auskick programme will return BIGGER and better in season 2015 every Friday nights starting mid April under lights at the MCG of the East – Walker Park Mitcham.
The club also is pleased to announce that Craig Giles will continue on as our Auskick co-coordinator for season 2015.Craig was this year nominated for the Eastern Region Coaches Association Coach of the year for his work with the Mitcham JFC Auskick. His wealth of junior football experience and his ability to relate to the kids at all levels made for a year of fun, skills, development and participation for ALL the children, family and friends.
Craig and his merry band of helpers will again be conducting clinics within the local primary schools and it is the intention of the Mitcham Junior football club to have the most organized and well run Aus Kick Clinic in the city of Whitehorse
The AFL NAB Aus Kick program is regarded as one of the, if not the best Junior sports programs in Australia and when you register on line you Get an awesome pack jam packed full of goodies.
This season the AFL has introduced a fully automated On-line Auskick Registration & Payment system please
Follow the link
http://www.aflauskick.com.au/register/
Simply enter Mitcham's post code 3132 in the top right hand corner and follow the prompts from there
First try to RE-REGISTER and if you don't know your ID and Password, just put in your email address and it will be sent to you.
To FIND CENTRE, search by "centre name" and enter MITCHAM.
Click PAY to make your credit card payment.
Craig is looking forward to seeing all the Veteran Aus Kickers plus an array of new draft picks, he will be in touch before you start. Any problems please give him a call on 0408 536 539
Also if you're purchasing new boots, shorts, socks and jumpers pop down 

to Rebel Sport Ringwood where ALL our members' family and friends

can receive a 5% Discount on ALL purchases just by mentioning 

The Mitcham Junior Football Club  name