2017 JSL PREMIER LEAGUE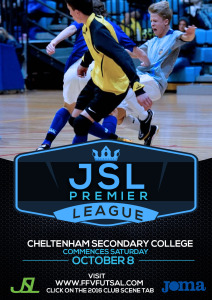 The 2018 JSL Premier League for junior FFV Futsal Clubs and elite Futsal teams, kicks off over the weekend of October 12, 13 and 14.
Three venues will be used for this year's league; Cheltenham Secondary College, Caroline Springs and Mullum Mullum stadium.
The Premier League will feature teams from Vic Vipers, FTS, Bayside Pirates, EFA Eagles, Metropolitan Thunder, Melbourne Dragons, Futsal Ballarat, Northern Lions, Bairnsdale FC and East City.
If you would like more details of this league, contact your local Futsal Club or Mark Georgeson at markg60@sandarra.net.au