FFV FUTSAL COMPETITIONS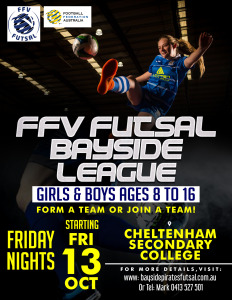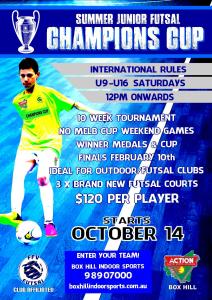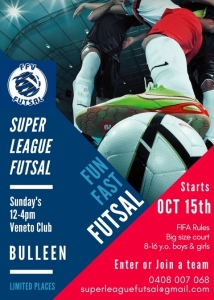 Open Mens Premier League
Commencing on Sunday October 15, the Open Mens League will be played at Caroline Springs Leisure Centre on Sunday nights. All games are played on the 40m x 20m sized pitch and are to FIFA rules. Contact your Club for more details or Jack Dugonjic Tournament Director. afgfutsal1@gmail.com

Open Womens Premier League
Commencing on Sunday October 15, the Open Womens League will be played at Caroline Springs Leisure Centre on Sunday nights. All games are played on the 40m x 20m sized pitch and are to FIFA rules. Contact your Club for more details or Jack Dugonjic Tournament Director.
JSL Premier League
The 2017 JSL Premier League kicks off on Saturday October 14 at Cheltenham Secondary College, Bernard Street, Cheltenham.
The League will feature players from Futsal Clubs across Melbourne and Regional Victoria. Contact your Club Administrator for more details or contact Mark Georgeson, Tournament Director.
JSL Bayside League - Friday Nights at Cheltenham Secondary College
This League kicks off on Friday October 13 at Cheltenham Secondary College. Contact your Club Administrator for more details or contact Mark Georgeson Tournament Director. markg60@sandarra.net.au

Champions Cup - Saturdays
Junior Leagues hosted by FFV Futsal Club Metropolitan Thunder and Action Indoor Sports. Contact Denny Fatekas Tournament Director denny@actionindoorsports.com.au
Super League - Sundays
Junior Leagues hosted by FFV Futsal Club Melbourne Dragons. At the Veneto Club Bulleen. Contact Harry Amiridis for more details. hamiridis@live.com
Club Contacts : Visit the 2016 Club Scene Tab - Go to Club List
Competition Contacts
Open Mens Premier League: Jack Dugonjic afgfutsal1@gmail.com
Open Womens Premier League: Jack Dugonjic afgfutsal1@gmail.com
JSL Premier League - Junior Boys - Saturday afternoons
Mark Georgeson markg60@sandarra.net.au
JSL Premier League - Junior Girls - Friday Nights: Mark Georgeson
JSL Bayside League - Juniors Boys & Girls: Anne Louise Halliday anne-louise7@bigpond.com
Champions Cup - Denny Fatekas denny@actionindoorsports.com.au

Super League - Harry Amiridis: hamiridis@live.com