Player Eligibility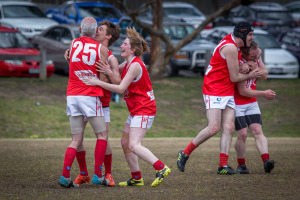 Victorian FIDA Football League is a structured football competition for Males and Females between the ages of 14 and 40* with an intellectual disability. The compeition fosters a respectful and inclusive environment with the aim to give people who may not otherwise have had the chance, an opportunity to play football.
There are however requirements for a player to meet in order for he/she to be deemed eligible.
For a player to be eligible to play in the competition he/she must meet two (2) of the following requirements;
Have attended a Special School

Have attended a Mainstream School with an aide

Have proof of a disability pension for an intellectual disability

Be registered with a disability service
Where a player is unable to meet the above requirements, clubs have the ability to submit a players case for review to the AFL Victoria FIDA Football and AAA Programs Manager. Please refer to the 'Contact Us' tab for contact details should you wish to discuss.
All clubs will be made aware of any players that do not meet the requirements but are deemed eligible by AFL Victoria.
*Players over 40 years of age are required to submit a letter from their doctor stating that they're fit to play in the competition. Similarly, players under the age of 14 are to have written permission from their parents or caregivers before they are able to play.