ONLINE FORMS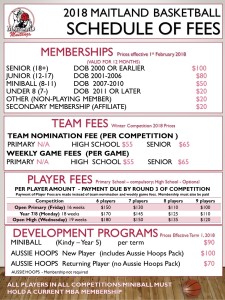 Maitland Basketball now uses the Sports TG (formerly Fox Sportingpulse) online competition and registration management platform. Some of our programs now have online registration and payment options available for your convenience.
If you require any assistance with online forms, please contact MBA on 4934 3503 or visit the club during opening hours.
Annual Membership
All players in all competitions / programs (except Aussie Hoops) MUST hold a current membership with Maitland Basketball Association
All player memberships are valid for 1 year from the date of purchase.
To register as a member CLICK HERE
Affiliation / Secondary Membership - For any participants who are registered first at another association, you are required to complete a secondary membership with MBA. To complete this membership type, please contact MBA on 4934 3503 or visit the club during opening hours.
---
Team Nominations
Our 2018/2019 Summer Competition re-nominations (existing teams) will open on Thursday 6th September. Below is an outline of the key dates for team nominations
DATE

EVENT

Thursday 6th September

Re-Nominations open for existing teams only - team contacts to receive info via email

Tuesday 18th September

Nominations Open for new teams - nomination form will be available online

Friday 5th Octoberer

5pm - Nominations Close
(late nominations may be accepted if space available - late fee will apply)

Monday 15th October

All competitions commence this week
Full nomination information will be emailed directly to existing team contacts on Thursday 6th September.
There are limited spaces in competitions but for inquiries please call Maitland Basketball 49343503
---
Miniball (Kinder - Year 5 Program)
To enrol in the Minball program - contact MBA directly on 4934 3503 or email development@maitland.basketball.net.au
All players please complete and purchase the annual Membership (above) before playing.
---
Aussie Hoops
Annual membership is NOT required for Aussie Hoops Participants.
Aussie Hoops Program Registration - Click Here