2017 Winter Indoor Training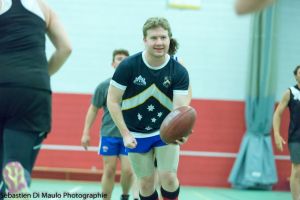 English Below
Ouverts à tous, peu importe votre niveau d'habiletés ou votre connaissance du jeu. Nous sommes toujours heureux d'accueillir chaleureusement quiconque souhaite découvrir ce merveilleux sport qui nous passionne : le football Australien.
Nos entraînements intérieurs d'hiver sont une occasion unique d'apprendre les rudiments du sport et de se remettre en forme dans une ambiance de franche camaraderie. Il nous fera plaisir de vous partager notre amour du jeu, nos connaissances techniques et, évidemment la bière fraîche qui vient récompenser nos efforts après l'entraînement. Peu importe les raisons qui vous poussent à vous joindre à nous, vous trouverez certainement une place pour vous au sein de not
...
re ligue.

Libérez vos calendriers, selon l'horaire suivant afin d'être disponible pour venir entraîner avec nous :

• Dimanche, le 26 Février 2017 @ 14h
• Dimanche, le 5 Mars 2017 @ 14h
• Samedi, le 25 Mars 2017 @ 20h45
• Samedi, le 8 Avril 2017 @ 17h30
• Dimanche, le 16 Avril 2017 @ 14h
• Samedi, le 29 Avril 2017 @ 17h30

Le prix des entraînements est le suivant (comptant ou par cheque payable à "AFL Quebec"):
- 10$ par session d'entraînement
- 40$ pour les six sessions si vous payez lors du premier entraînement
- GRATUIT pour votre premier entrainement avec nous. Une heureuse façon pour nous de vous souhaiter la bienvenue au sein de notre ligue!
Avant de participer, veuillez vous inscrire au lien suivant:
Vous avez des questions? Info@aflquebec.ca


***

Absolutely EVERYONE IS WELCOME regardless of fitness levels, skill levels or prior knowledge of the game. New players to the sport are particularly welcome and encouraged to attend as Winter Indoor Practice is a great way to learn the game in a social yet challenging environment (#1).

The Schedule is as follows so clear the dates;
• Sunday, 26th February 2017 @ 2.00pm
• Sunday, 5th March 2017 @ 2.00pm
• Saturday, 25th March 2017 @ 8.45pm
• Saturday, 8th April 2017 @ 5.30pm
• Sunday, 16th April 2017 @ 2.00pm
• Saturday, 29th April 2017 @ 5.30pm

The cost per training session is the following (cash or cheque payable to "AFL Quebec"):
- 10$ for each training session
- 40$ for the six sessions if you pay at your first training
- FREE if it's your first training with AFL Quebec!
Before your first training, please register at the following link: