About Us
Play Aussie Rules Footy in Vancouver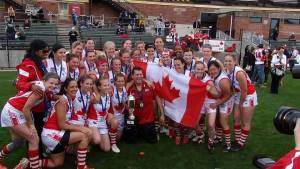 The British Columbia Australian Football League (BCAFL) is the fastest growing league in the region including teams in Vancouver metro area, Seattle and Victoria.
The league also boasts affiliation with the largest junior development (NDJAFL) program in Canada.
The following teams make up the BCAFL:
Mens Senior Teams
Burnaby Eagles
Delta Bayhawks
Vancouver Cougars White
Vancouver Cougars Red
Westcoast Saints
Seattle Grizzlies
Victoria Sharks
Women's Senior Teams
Vancouver Vixens (Womens)
Westcoast Wildcats (Womens)
Junior Teams
North Delta Junior Football Club
In 2016 we have expanded significantly welcoming the Seattle Grizzlies into our championship series, bolstering our women's program and launching the Victoria Sharks.
Players from clubs in BC Footy have the opportunity to represent their province and Canada at various national and international tournaments including the International Cup each 3 years in Melbourne Australia.
Canada is currently the World Women's Champion while the Men's team is ranked 5th in the world.