Club Culture - Gators Think Positive Play Positive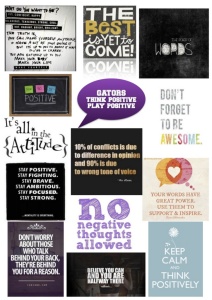 THINK POSITIVE PLAY POSITIVE program that has been designed to build and improve our culture from the ground up. Our aim is for not only Better Athletes but also Better People.
Randy, Carol Fox and I have developed the 5 key pillars that will be our programs focus and the support of all particpants is program is critical if this is to improve and maintain a positive culture.
The program covers the role of a positive parent, coach & player and will evolve throughout the season.
PROGRAM STRUCTURE & THE 5 PILLARS
1. COACHES WORKSHOP - Coaches have completed their first 2 workshops and will be an ongoing event.
2. THINK POSITIVE PLAY POSITIVE - New Gator program mantra
3. HONOURING THE GAME & ROOTS - The concept of honouring the game is about RESPECT. ROOTS each letter stands for an important part of our sport and is a simple tool that is easy to remember. Each coach will need to share this principle with their players. Participation agreement which most participants will sign, this includes coaches, parents, senior players (U18's - Seniors). The expectations in this agreement are clear and provide the direction our program will take. This will be intergrated into the Parental Agreement form in 2015.
3. POWER OF POSITIVE WORDS - Parent workshop (1hr) about being a Positive sport parent
4. YOU, ME & US SESSIONS for 2014 U16 thru Yth players players only - This is about respectfulrelationships, dealing with difference's and more
5. GATORS INCIDENTS & COMPLAINTS POLICY - Grievance panel to handle Complaints & Code of Conduct breaches. Further details are listed seperatly on the Gator website