Hamilton Wildcats AFC (Jeff Fish cancer fundraiser)
Since the Club's inception into the Ontario Australian Football League roughly 22 seasons ago, the Hamilton Wildcats have always been labeled as a very tough, "blue collar" Club with a lot of courage and who like to play an extremely hard hitting brand of football. During those 2+ decades, the Wildcats have seen many up's and down's with many battles won and lost on the oval; but as they prepare for the 2012 OAFL season, there's no battle that will test their toughness & courage more than one that current 13 year Club veteran and former Northwind member, Jeff Fish is currently faced with off the field.

For those of you who may not have heard by now, Jeff was diagnosed with stage IV pancreatic cancer that had also spread to his spleen and liver, in January of 2012. Life has sure thrown Jeff and his young family a curve ball, but he and his wife Angela, are trying to remain as optimistic as possible, especially since they are parents to two young children (Julia, 4 & Ryan, 1). Since the diagnosis just a few short weeks ago, the Fish family has been on the go non-stop, looking into the absolute best options/facilities for Jeff's treatment, as well as meeting with some of the top surgeons in Ontario. After weighing out many of the options they had at hand, they decided to head south of the boarder to kick start his healing process before continuing treatment closer to home in early March.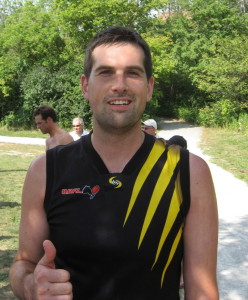 Jeff is currently undergoing a 4 week intensive treatment program in a hospital near San Diego, California. His treatment is based on four basic elements: 1) a vegan alkaline diet, 2) supplementation (both oral and by IV), 3) liver detoxification and 4) immunotherapy which includes hyperthermia and "vaccine-type" injections to induce a fever and mobilize his immune system to fight the cancer cells. All of the treatments are nontoxic and work to reverse the toxic environment that allowed the cancer to flourish in the first place. Jeff obviously has days where he doesn't feel very well, doesn't eat very much, or is unable to do very much, but that is all part of the healing. This is a journey, that is for sure, but one that the Fish family has come to except and look to do together while trying to remain positive. They are definitely taking things day by day, and both Angela & Jeff have an extremely optimistic outlook and are very devoted to do what it takes to make the 38 year olds' battle a winning one. One of the biggest sacrifices they've had to make to date was that by heading to the US, it meant that they would be away from Julia and Ryan for roughly 1 month. As any parent can definitely appreciate, being away from your children for any amount of time can sometimes be very difficult; but Jeff & Ange both see it as a short term sacrifice in order to ensure a lifetime of memories with them. Now that's truly courageous.

Obviously, when something like this comes up, it not only affects the family involved, but everyone that's close to them. Well, for those of you who have ever had the pleasure of meeting Jeff, you would definitely agree that he is one of the kindest and most easy going people you'll come across. He's truly the Wildcats gentle giant with a heart of gold, as the 6'6" ruckman has battled hard on the field over his 13 year career with the Club, had the opportunity to represent Canada as a member of the Northwind on a number of occasions, and now will be battling even harder away from the oval. Jeff will not be alone in his battle, as his wife Angela has definitely taken the wheel during this incredibly trying time for their family, and from all accounts been an amazing source of strength and motivation for her husband. In addition to his immediate family, Jeff will also have his extended "footy" family behind him every step of the way, as the Hamilton Wildcats and the OAFL are looking to organize a number of fund-raisers throughout the 2012 season to aide in Jeff's battle and medical treatment. The Wildcats have already started to collect a number of donations from around the Club and within the community in support of the Fish family and it doesn't look like these charitable donations will stop anytime soon.
The Club has also been blessed with a number of local businesses (Ray's Boathouse, The Futon Shop, Phoenix Fitness to name just a few) that have come forward to express their interest in helping to support the long-time Wildcat standout, including local celebrity and current Closer for the Milwaukee Brewers, John Axford. A Hamilton resident in the off-season, Axford was approached by one of the current Wildcat players during a training session at his local Fitness Club, and when he heard about Jeff and what the Hamilton Wildcats have planned to support their fellow teammate, he instantly asked how he could help as well. No less than 24hrs later, the Simcoe born athlete had returned to donate an amazing gift basket of autographed baseball paraphernalia, as well as a personalized card addressed to the Fish family from John and his wife Nicole. John's donation is definitely an incredible gift from an incredible person, which will go towards supporting an amazing family as they take the first steps towards recovery.

The dictionary defines "Courage" as: 1) the ability to do something that frightens one & 2) strength in the face of pain or grief. I think we would all agree that the battle that Jeff and his family are currently going through is definitely one that would frighten anyone, and will take an incredible amount of mental and physical strength to overcome. The Hamilton Wildcats will be doing what we can to help, as a Donation Account has been set-up for Jeff and his family, and would greatly appreciate anyone interested in helping by making a monetary donation to assist in the Fish's medical treatment costs.
This account information unfortunately cannot be posted for the general public to see, and will only be accessible for 30 days (until March 15th, 2012), but we can definitely send all confidential info directly to any interested parties. Please log on to our website (www.hamiltonwildcatsafc.com), "like" our Facebook page (www.facebook.com*search: Hamilton Wildcats AFC), "follow" us on Twitter (www.twitter.com/WILDCATSafc) or contact Charles Thompson: cthompson1977@telus.blackberry.net for more information on how you can get involved with our upcoming fund-raisers or if you would like to make a personal donation for Jeff Fish in trust. Please give generously, and help Jeff and his family win this courageous battle.


Last Modified on 04/07/2013 10:07