Quebec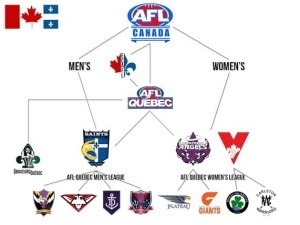 League: Australian Football League of Québec
Province: Québec (QC)
Website: www.aflquebec.ca
AFL Quebec is the governing body of Australian Rules Football in Quebec. Based primarily out of Montreal and surrounding areas it is comprised of both a Men's and a Women's Leagues.
AFL Quebec Men's League consists of four clubs, the West Island Wooders, Laval Bombers, Montreal Demons, and Old Montreal Dockers, while the newly expanded Women's League also consists of four clubs, the NDG Devils and the Plateau Eagles from Montreal and the Carleton Warriors and Rideau Shamrocks from Ottawa.
Like many leagues outside of Australia, AFL Quebec is a nine a side league in both the men and the women. This is for numerous reasons, including but not limited to local player development and field availability. AFL Quebec plays the vast majority of its regular and final series games at Vanier College.
The AFL Quebec Regular Season runs over nine rounds from Mid-May until early September. This is followed by finals in mid to late September, with three rounds of finals for the men and two rounds of finals for the women's.
AFL Quebec has both representative Men's and Women's 18 a side teams. These teams are known as the Quebec Saints, Montreal Angels and Ottawa Lady Swans respectively. They compete against other 18 a side representative teams across Canada and North America. Generally these games occur a handful of times over a season either in one off games or more commonly at invitational tournament. Such a tournament is the AFL Quebec Women's Tournament held early May every year.