2016 Junior Squad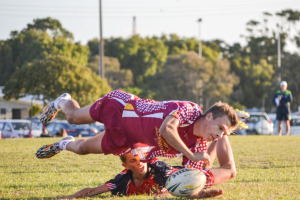 Sunshine Coast Fraser and Burnett District Touch Association
2016 Junior Squads
All players and parents will need to be aware to be eligible to be selected in the SCFBDTA team in 2016 you will need to attend the compulsory training sessions on April 10th 2016 at Caboolture and May 7th 2016 at Noosa. For any juniors who may be selected to play in a senior representative side, you will need to play in the junior side first as per the SCFBDTA selection criteria. Players are also required to be playing in a Sunshine Coast Affiliate. Information regarding the process for Sunshine Coast teams competing at the Junior Championships will be emailed to all players in the coming week.
Congratulations to the following players for making the 2016 squads -
Sunshine Coast Fraser and Burnett District Touch Association
2016 Squads
Congratulations to all our junior players who have been selected into the Sunshine Coast junior squads. You will receive a letter to explain the responsibilities of a squad member via email in the coming weeks.
12 Girls
Hervey Bay
Gracie Finn
Ella Barker
Kingaroy
La'Toya Barkle
Stevee Stead
Sophie Ferling
Gympie
Tia Mclellan
Casey Dobson
Noosa
Lilliana Bowrey
Paige Robinson
Madeline Dwyer
Parker Dean
Caboolture
Brooke Parker
Ruby Orchard
Brianna Kidd
Chloe Tunks
Amelia Woo
Zali Parcell
Trinity Keirnan
Karri Shum
Brielle Lawrie
Scarlett Ware
12 Boys
Gympie
Isaac Mamet
Callum Pearce
Jack Baumgart
Tulloch McLellan
Nathan Skinner
Noosa
Zane Miller
Jaxon Orchard
Marcellus Casimiro
Ethan Pohlner
Curtis Dean
Lachlan Dudgeon
Daniel White
Ben White
Kawana
Riley Collins
Hervey Bay
Taj Wright
Caboolture
Bailey Sawtell
Marco DeRossi
Cooper Clark
Oscar Torrens
Taniko Takerei
Mason Alleyne
Ryan Hartwig
14 Girls
CAB
Remi Hinckeman
Grace Sweeney
Lara Sodhi
Laiken Clark
Tahlia Mead
Chloe Sawtell
Samara Robinson
Paige Robinson
Vanessa Fairey
Elle -Louise Kidd
Adele Black
GYMPIE
Ivy Dugdale
Jordan Lobegeier
Elizabeth Waters
Nakita Rogers
NOOSA
Jamaica TeMoana
Lucy White
Monique Robinson
Tenay Eyre
H-BAY
Phoebe Fraser
Syke Houliston
K-ROY
Hallee Chizzotti
Maddison Carstairs
Taylor Watt
14 Boys
Caboolture
Logan Kiernan
Alex Parker
Isaiah Levi
Ethan Shum
Jackson McKellar
Brock Long
Nilesh Hayward
Sam Collins
Aidan Skea
Elandre Barnad
Noosa
Jack Herriman
Tamatoe Casimiro
Ryan Christensen
Lachlan Franklin
Willem Johnstone
Noah Kelly
Gympie
Matthew Berry
Darcy Cartwright
Mathew Pearce
Zane Skinner
Hervey Bay
Jaspa Wright
Tyson Roberts
Gula Shillinsworth
Daniel Drake
Brayden Guffe
Jaden Carpenter
16 Girls
Noosa
Giverny Robinson
Tyla Temoana
Danielle Sealey
Phillipa Dwyer
Jemima Simpson – Smith
Kalen Anderson
Kawana
Naomi Parslow
Maya Henricksen
Demi Chizzotti
Gympie
Ella Findlay
Georgia Garrels
Racheal Gaston
Taleah Smith
Caitlin Urwin
Georgia Zemanek
Caboolture
Makayla DeRossi
Indianna Heaton
Grace Isele
Melanie Wilks
Charlotte Lowrie
Montana Floss
16 Boys
CABOOLTURE
Caleb Carson
Corey Wilks
William Sweeney
Anthony Evans
Bailey Robinson
Lachlan Alleyne
Jack Kirkwood
Jasper Sawtell
Connor Ware
Harvey Lew
Noosa
Taj Bakhach
Sean Andrews
Hayden Lumbden
Jayden Hebin- Both
Reuben Gemmel
Chance Wells
Gympie
Bailey Parr
Sam Dugdale
Cameron Hansen
Joel Owen
Kawana
Fletcher Lynham