Annual Awards Night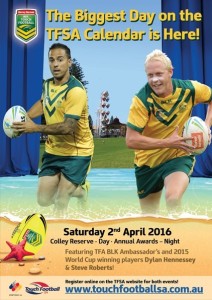 2016 Annual Awards is here!
Date: Saturday 2nd April 2016
Starts: 7.30pm
Finishes: 10.30pm
Venue: Arkaba Hotel - Upstairs area
Price: Tickets are $70.00 (one price for adults and U18s).
A ticket to the 2016 TFSA Annual Awards will include:
Entrée, Main Meal, Dessert and drinks on arrival.
TFSA will ensure every effort is made to have individuals organised into preferred table and sitting arrangements. TFSA will be accepting table member request closer to the event. TFSA will release these requests 1 - 2 weeks before the event via Facebook and on the TFSA website. All registered members for the event will be contacted via email and notified.
Registrations will be online, including online payments.
The following Awards will be delivered at the 2016 TFSA Annual Awards:
1. SPORTSMED SA Volunteer of the Year
2. Arkaba Hotel Affiliate/Competition of the Year
3. Coopers Administrator of the Year
4. Kildare/Reick Scholarship
5. Cody Gray - Junior Player of the Year Award
6. BLK Player of the Year Award
We will be joined by BLK ambassador's and World Cup winning players Steve Roberts and Dylan Hennessey on the night! Also more gests to be named soon!
Information regarding award nominations, criteria and nominations will be provided by Monday 29th February 2016 and will remain open until Friday 24th March. Check the TFSA Facebook page and website for details.
TFSA hopes that the state wide community can get behind this event and celebrate the great results that TFSA has achieved over the last year and a half!