Border Clash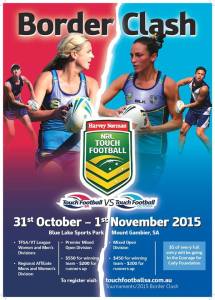 Touch Football Australia is excited to announce the 2015 Border Clash!
To be held in Mount Gambier on Saturday 31st October 2015 at Blue Lake Sports Park

TEAM REGISTRATIONS are now open and will be until 5.00pm Wednesday 21st October
Please click the following link to register - CLICK HERE TO ACCESS TEAM REGISTRATION FORM
Cost: $220 per team (TFSA to send invoice once team registration is processed)
Divisons offered:
Regional Men's Open
Regional Women's Open
Mixed Open (Regional and Metro)
INDIVIDUAL REGISTRATIONS
Once you have registered your team (only one team delgate required per team) you will be able to invite team memners to join yur team using the automatic team code system. Alternatively you can direct individuals to this website page to register here and they can add the relevant team code -
CLICK HERE TO ACCESS INDIVIDUAL REGISTRATIONS
We hope that both states support this event in its inaugural year and look forward to seeing you all in Mount Gambier on Saturday 31st October 2015
Please feel free to get in contact if there is any additional information that you require at this stage.
Miles Wilson
State Operations Manager (SA)
0423 542 768