Home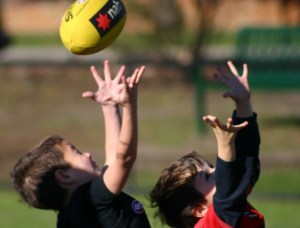 Mentone Auskick 2018
Hello and Welcome to Auskickers, Mums and Dads to the 2018 Auskick season!
In 2018, Mentone Auskick will again have a Girls ONLY group. Find out more here.
Registration
Registration and payment is done ONLINE via the Auskick website through the following link: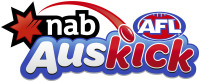 Register by Saturday, April 21st, 2018 and you will get access to four complimentary tickets (i.e. two adults and two children) to a selected 2018 Toyota AFL Premiership Season match through the AFL Game Day program.
If you're re-registering, remember to update your child's school grade, otherwise they may miss out on the appropriate age group awards throughout the year.
Cost
Registration for the 2018 Auskick season costs $100.00. Children registering for the first time will receive an Auskick pack containing the following:
Synthetic Sherrin football
Footy Pump
Awesome backpack
Footy cards and album
and more...
Children returning to Auskick will receive an Auskick pack containing the following:
Synthetic Sherrin football
Footy pump
Personalised Insulated Lunch Box
T-shirt
Footy cards
and more...
Packs will be mailed to the address supplied at registration!
When does Auskick Season start?
Season 2018 will kick off on Saturday the 21st April at 9:30am.
Training then follows on Saturday mornings 9.30am to 10.30am with the odd Friday night training and BBQ social night!
Who can do Auskick?
Auskick is open to boys and girls who turn 5 in the calendar year, and up to the age of 12. We encourage those in Grades 3, 4, and 5 to continue with Auskick as it provides invaluable practise of the techniques they will use in junior footy. Besides, it's heaps of fun, and from grade 2 onwards, they will be eligible to play at half time at a real AFL match! How good is that?!
What you need to bring
Apart from your child, little else is needed. Clothing suitable for running around in is useful, (i.e. shorts, footy jumper etc). Whilst some children will be wearing football boots, they are optional - although useful in slippery conditions. It is highly recommended that you bring you own water bottle, although there is a drinking fountain at the ground. We encourage children to wear a well fitting mouth guard, as although there is no tackling in Auskick, accidents do happen.
Parental Involvement
Parents (both mums and dads) are the driving force behind AFL Auskick. Their role as Co-ordinators, Coaches, and volunteers is fundamental to the success of the program. Auskick sessions are of most benefit to your child when a ratio of one parent helper is available to each five children. Make sure you get involved. You'll have heaps of fun!