Major Sponsor
Grant Burge Wines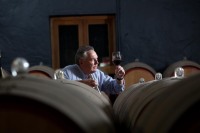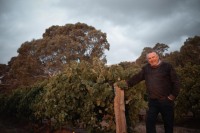 www.grantburgewines.com.au
Grant Burge and Sport
Grant and Helen have been long time supporters of local and national sports including football, cricket and netball. As a former player himself, Grant reminisces about the cold football days in the 50's and 60's where they may have sampled a fortified at half time to keep warm.
The Burges (Grant and Helen) have been long time sponsors of a greatful Barossa Light and Gawler Football Association.
As the major sponsor of the BL&G Football Association they are committed to helping the local League and teams achieve success and will often be seen at games throughout the region
History and Tradition
Grant Burge is a fifth generation Barossa Vigneron. Throughout his career, Grant has been one of the most respected and innovative forces in the Australian wine industry. The history of the Burge family and their long association with wine making in the region can be traced back to March 1855, when noted tailor John Burge immigrated to the Barossa from Hillcot, near Pewsey in Wltshire, England with his wife Eliza and their two sons. With help from his sons Meshach and Henry, Johns farm flourished with wheat, sheep and viticulture. His eldest son Meshach continued the farming tradition and was a prominent community leader. He married Emma in the early 1900's and they had eight children. First born Percival established the Wilsford Winery in 1916, beginning the Burge winemaking tradition. Percival had two sons, Noel and Colin. Colin and his wife Nancy had one son, Grant. Following in the footsteps of his father and forefathers before him, Grant now carries the winemaking tradition into the twenty first century
Family Owned
Grant Burge Wines was formed in 1988 by Grant and his wife Helen, and is located in the heart of the Barossa Valley. Continuing the family tradition, Grant and Helen have brought the sixth generation into the fold. Eldest son Toby is the company's Vineyard Manager, upholding the premium quality and consistency of fruit produced from the vineyards. Amelia joined the Marketing Department in an assistant role early in 2007, and in late 2008 went out into the world to gain more experience to bring back to the company later in her career. Trent the youngest, has been part of the hardworking cellar team and vineyard team since vintage 2006. All three children share Grant and Helen's vision to continue this long family tradition of bringing exceptional wines to the world.
"I am a romantic, and I have real sense of my family history, of my father and grandfather, and what they achieved" - Grant Burge.