Home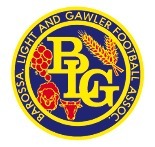 BAROSSA LIGHT & GAWLER
FOOTBALL ASSOCIATION
The BLGFA Facebook page is up and running so log in, like and check out the latest info.. https://www.facebook.com/BLGFA/
BLGFA GRAND FINAL 2018
Congratulations to all those involved in the grand final this week. We are looking forward to a magnificent display of top-quality football action.
SPECTATOR BEHAVIOUR
A reminder from the BLGFA that violence or offensive behaviour will not be tolerated. For the safety and enjoyment of others, host club officials, BLGFA officials, police and security staff are authorised to remove from the venue any persons who are behaving in an antisocial or offensive manner. Please remember that when wearing your club colours, your behaviour is impacting not only on yourselves, but on the image of your club.
Saturday September 22nd at Gawler Centrals (note early start times to allow for presentations in between games)
9.15am Under 15 - Nuriootpa vs Willaston
10.40am Senior Colts - Tanunda vs Willaston
12.25pm Reserves - Nuriootpa vs Angaston
2.20pm A Grade - Nuriootpa vs Tanunda
Buses will again be available to travel to and from the Grand Final at a nominal $10 round trip fee. See below schedules.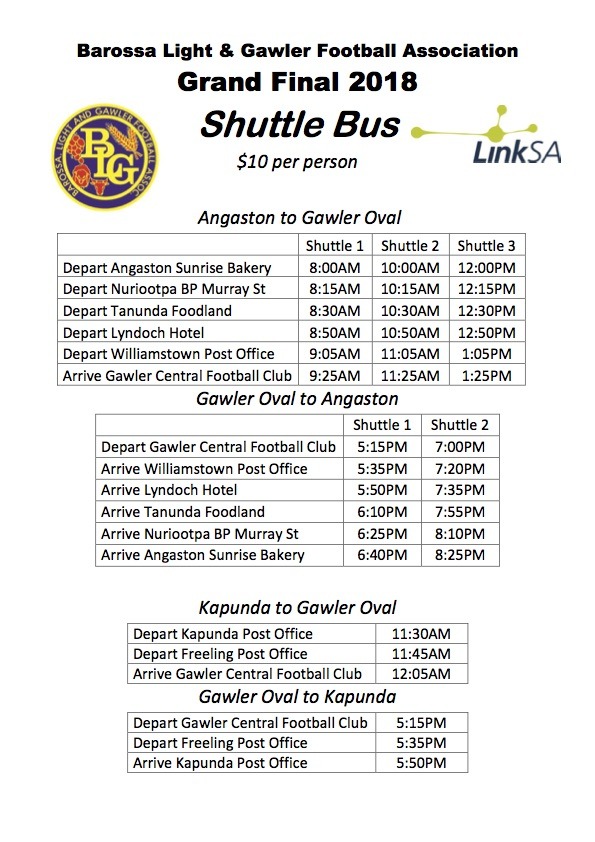 JUNIOR CARNIVAL SUCCESS
The Barossa Light and Gawler Football Association Junior Management Committee hosted the annual end of season Carnival at the Nuriootpa Oval on Sunday 26thAugust. In fantastic conditions 32 teams in Under 9 and Under 11 grades participated in the event. Sadly, Freeling chose not to participate this year but the other eight Clubs were well represented with up to 2500 players, coaches, officials, umpires, parents, grandparents and spectators all having a great day. This is an important event in the Junior Football calendar which gives the kids a chance to finish off their season in an enjoyable way.
Thanks go to the Central District Football Club for supplying incentive awards, and the Nuriootpa Rovers Football Club for providing the facility for the day. Well done to Willaston, Tanunda, Kapunda and South Gawler for catering the event. Most stalls were very busy all day with the much needed funds going directly to their Club's junior football programs.
Click on the photo gallery tab above and select "2018 Junior Carnival" to see some great shots of the kids in action.