2019 Metro Championships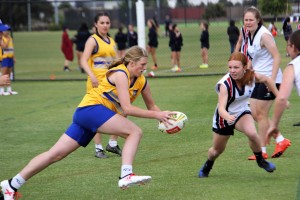 The Victorian Schools Touch Football Championships are going through a re-structure in 2018/2019 with the re-introduction of 4 country championships and the continuation of 2 metropolitan championships and a state final.
With more information to come, we will be updating both the TFV website and the Victorian School Touch Football Champions regularly so make sure you keep an eye out!
2019 METRO CHAMPIONSHIPS
4x teams (Grand Finalists) from each divisions at the following locations will be invited to attend the state finals to face off against the best from regional Victoria and Metropolitan Melbourne.
All teams are invited to attend the Metropolitan Championships. It is TFV's preference that schools attend the conference they are within (eastern or western). Due to the case of schools being unable to attend their recommended date, they can contact David Diack for special consideration to attend the alternative date.
In Term 1, 2019 – the Eastern and Western Conferences will be running.
Metro Championships (Eastern Conference) – Monday, 18th March 2019

Metro Championships (Western Conference's) – Tuesday, 19th March 2019
State Finals – Tuesday 26th March 2019
More details on the Victorian School Championships will be released within the coming weeks so stay tuned!
Any questions can be directed to david.diack@touchfootball.com.au or (03) 9681 3000.