O'Connors Farm Machinery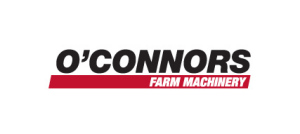 O'Connors own and operate six Case IH machinery dealerships and one motor vehicle dealership.

The business is owned and managed by Dennis and Mark O'Connor who both have extensive experience in the industry. They have developed an exceptionally high profile in the agricultural machinery industry throughout the Wimmera Mallee district and now across three states. The O'Connor organisation has been built on reputation, honesty, impressive business and management skills and exceptional people.

The JJ O'Connor & Sons business commenced in Birchip in 1963 and has expanded significantly to include Warracknabeal, Horsham, Shepparton, Corowa and Bordertown. Each dealership has captured market share and increased profitability, and currently benefit from a strong financial position.

O'Connors completed the construction of a 2 million dollar purpose-built facility in Horsham in 2005, highlighting their commitment to the agricultural industry and rural communities. O'Connors undertook this commitment with the knowledge that they are leaders in the industry and will continue to increase their growth, market share and profitability.

Since then, O'Connors have proven their commitment to provide country areas with first-class service and product by expanding to a six-dealership strong company opening up in Corowa in mid 2010 and Bordertown in early 2011.

Expansions are already underway at the Corowa dealership and a brand new dealership is being built from the ground up at Birchip.

A key component of the O'Connor business is the reputation they have built over many years. They have been trading in the local area for over forty years and have built up great loyalty among their strong customer base.

The strength of good staff is not overlooked at O'Connors. They employ quality people who reward them with commitment and a positive work ethic.

The combination of experience, vast product information, local knowledge and exemplary selling skills of the dynamic sales staff, is a powerful combination and one that ensures success.

The importance of ongoing training and staying at the forefront of technological change is recognised throughout the company and O'Connors are committed to providing the relevant training for all staff.

Many management control systems are already in place throughout the six O'Connor dealerships. The business operates with a fully computerised centralised administration system based in Horsham.

The market-leading and innovative nature of O'Connor hasn't gone unnoticed, the company attracting many awards as it continues to excell. Case IH also awarded O'Connors exclusive rights to sell the Self Propelled Patriot Sprayer throughout Victoria, Southern NSW and Tasmania.

Yet another aspect of the business O'Connors takes great pride in and is serious about is being at the leading edge of the latest farming technology. Farmers are leaders when it comes to innovation and improving efficiency and O'Connors is right there with them. Expert precision agiculture advice, the availability of the latest equipment and the O'Connor RTK Network all fit together to put O'Connors at the forefront of the latest farming developments.

Above all, O'Connors has a clear commitment to country areas and understand the importance of customers getting the right advice, a superior product and the service and parts support to keep you running all year round.
Website: http://www.oconnorscaseih.com.au/
Contact Page: http://www.oconnorscaseih.com.au/contact-us/
Contacts(Birchip): http://www.oconnorscaseih.com.au/contact-us/contact-birchip/