The Ulimate Prize!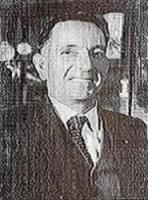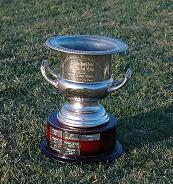 The late Mr Rupe Halfhide The Halfhide Cup
To North-Central Football League clubs it means as much as the Ashes win does to the Australian and English cricketers. It's the Halfhide Cup, presented annually to the team which triumphs after 22 weeks of gruelling competition.
The Halfhide trophy was introduced in 1960, as a generous gift from a St Arnaud jeweller and staunch football supporter, the late Mr Rupe Halfhide.
At the time, Mr Halfhide was undecided whether it should be a perpetual award, or one which could be retained permanently by a club after winning it a certain number of times.
"Let's say a club has to win it three times, not necessarily in succession, before becoming its permanent owner", suggested the League secretary, the late Mr Ted Chessells. "It could take between twenty and thirty years to 'go off'".
"Right," agreed Rupe, and his magnificent silver shield became the prize on which every North-Central club set its sights.
It "lasted" just three years.
Watchem-Corack won it in 1960, 1961 and 1962.
Undaunted, Mr Halfhide provided another. This one survived five years before being won outright by Wycheproof-Narraport, the club which was to dominate proceedings following the amalgamation of the Wycheproof and Narraport clubs in 1964.
The Demons have in fact taken a particular fancy to the Halfhide award. Currently they have FIVE of them in the trophy cabinet at their club rooms!
Regardless of cost, Mr Halfhide cheerfully continued to replace them as Wycheproof continued to win them.
Following his death in 1987, members of his family have perpetuated his name by becoming donors of the League's premiership trophy. Thanks to the generosity of Ian Halfhide and Joy Madder and their families, the Halfhide Cup remains as the ultimate prize in North-Central football.