The Richmond Legacy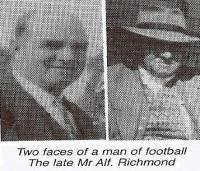 Shortly after World War II the North-Central League was given a significant lift in spirits through the generosity of two former players.
Mr J.J. Feeny presented a trophy for the league senior "best and fairest" winner, while Mr Alf Richmond made available an annual award for the leading goalkicker.
Before becoming vice-president of the Watchem-Corack club, and one its delegates to the League, Alf Richmond had played football for Watchem and Carron.
He was renowned as a humourist and racontuer. His close firend and long-time League secretary, the late Mr Ted Chessells once said, "it would be well om nigh impossible to to be in Alf's company for more than five minutes and remain sane and serious"
Alf Richmond was, however, very serious indeed about promoting and supporting the North-Central League football.
And as a parent he took great pride in the fact that both his sons had the ability to be classed as among the best in country football - Jim at full-back for a powerful Watchem-Corack combination, and later at Quambatook in the Mid-Murray League; and Geoff, as North-Central's outstanding full-forward and centre half-forward.
In fact it was Geoff who twice won this fathers trophy - in 1951 with forty goals for Watchem-Corack, and in 1953 with the big total of eighty for the season.
To the North-Central League, and to the players skilful enough to win the Richmond Trophy, this goal-kicking award has a value beyond price.
To: The Richmond Trophy Winners