A Medal with Meaning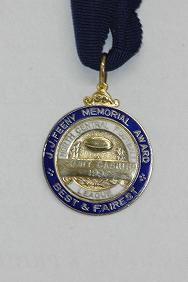 When football was resumed in the North-Central League after World War II, Mr J. J. Feeny, himself a footballer and tennis player of renown, made available to the League a valuable trophy for the "best and fairest" player in the senior competition each year.
Upon Mr Feeny's death in 1963, his eldest son Mr J.P. Feeny had a Medal struck to perpetuate the memory of his father - and to continue as the award for the League's most outstanding player.
It is not "just another Medal", but was designed so that every element held special significance. For instance, it incorporates two concentric circles - the circle long regarded as the synbol of both perfection and friendship.
The white circle signifies purity, or in the case of football "fairness". The blue one stands for "first prize" as in a blue riband event. The gold laurel leaf has its origins in the earliest days of the Olympic Games - when wreaths of laurel were the sole reward given for althletic excellence.
A football and goalposts complete the design of the Medal into which went a tremendous amount of thought, and which is now regarded as the ultimate individual prize in the North-Central competition.
Over the sixty-two years in which the Feeny Medal has been presented there have been 66 winners. The "count-back" system was abandoned and two Medals awarded in 1982, another 2 in 1984 and 1999 and three in 1985.
The League thanks the Feeny family for the donation of the Feeny Medal patent for the future. It is with great pride that North-Central now takes on the responsibilty of providing the Medal annually.
To: The Feeny Years