Home Page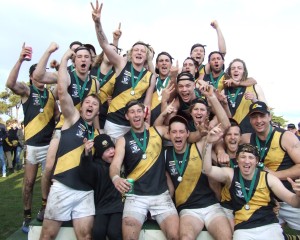 Download the 2018 draw here.
MGFL PRE SEASON 2018
Well the pre-season is well and truly underway, with all clubs starting to get a clearer picture of just what they will be working with in the weeks and months ahead.
Plans for intra club trials and practise games in the main have been locked in for the weeks leading into round 1, on the 7th of April.
Mirboo North and Yinnar promises to be the standout game of the opening round, with both clubs well placed following their grand final epic of 2017.
Both have filled gaps and possibly even improved further!
Thorpdale meet Newborough at home, with Tom Hallinans men in good order and ready to roll back into contention.
Trafalgar host Yallourn Yallourn North, coaches Josh Collie and Barrie Burnett hopeful of putting their stamp on the season early.
Boolarra, winless in 2017 will be looking for a win early when they meet Morwell East, but the odds will be stacked against them.
However, with some savvy recruiting and a focus on improved fitness, the Demons might be a little harder to shake off this season.
Hill End and Yarragon round out April 7th, with Hill End keen to get off to a win at home.
Just for the record Hill End, Boolarra are not planning to finish bottom in 2018 - be warned!!!
I havn't managed to get around to all clubs as yet, but soon will.....the feeling from most clubs is one of apprehension and excitement.
There is improvement expected at Boolarra and there should be, a winless season is unacceptable despite some admirable efforts along the way just to field sides.
Those squeezed out late by a surging Mirboo North, are keen for another crack at finals, whilst Yinnar has been quietly going about their business, after falling agonizingly close.
Newborough, Morwell East, Yallourn Yallourn North, are all happy with their off-season work and pre season preperation to date.
Newborough and Morwell East in particular, both confident of having the better mid-fields in the MGFL.
General observations of squads shows every club having a handful of top liners, good movers neat and tidy with the ball, fit and strong, supportive by voice of their team mates and quite capable of playing at a higher level.
To see the quality within the League is exciting!
That next group within each side is the key to success, as is the top group pushing up from further down.
at this early stage with numbers still effected by cricket and other commitments its always hard to gauge accurately a sides depth, but make no mistake come the middle of winter, every side will live and die by it.
good luck, all the hard work, gets a practice game reward shortly followed by the real stuff, now just weeks away.
Remember to join the facebook page and get club updates and interviews, during the season we will also live stream selected coaches pre game addresses to players and the teams build up to game time.
Enjoy!!