DTFA Polices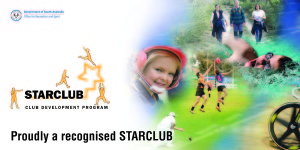 STARCLUB is an Office for Recreation and Sport (ORS) Club Development Program that has been specifically designed for use by sport and active recreation clubs of all sizes.

A STARCLUB is a well run club where quality coaches and officials work alongside valued volunteers in a safe and welcoming environment. STARCLUB focuses on what your Club needs to do to ensure they are complying with current legislation, member protection and other important issues. The program is valuable for your club whether you believe your club is already a STARCLUB or has some improvements to be made.

STARCLUB clubs will also be recognised by the Government and other organisations that value the role that well run community clubs play in our community. Clubs and Associations that have completed STARCLUB or have registered with STARCLUB will also be given preference for Active Club Grants though the Office for Recreation and Sport.
Attached you will find infomation about our club, the policies and stragetic plan for Demons Touch Football Association.