Club History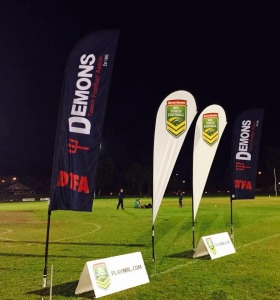 Demons Touch Football Association started off as Hope Valley Touch Football Club back in the Summer of 1995 when Bill Sheeky, who was associated with Hope Valley Demons Football Club, decided to start an Affiliated Competition at Hope Valley Sporting Club.
Bill Sheeky already had a successful Demons Touch Football Side Competing in the Botanics Affiliated Competition on Monday Nights from 1993, with all his children playing, Michael, Kellie and Scott, plus his wife Janet, as well as Footballers from the Senior Football Sides.
It was suggested back in 1993, by the then Chairperson of Hope Valley Sporting Club, that he should start his own Competition and the Sporting Club would support that endeavour but it took a couple of years for Bill to see the potential to establish a competition in the Northern Suburbs on an alternative night to the Monday Night Competition before he decided to proceed with it.
In 1995, Bill Sheeky was the State U18 Coach with two of his children, Michael and Kellie, representing their State and this was the catalyst, as he saw that this was the right time to make it happen, as it was a sport all his family was involved in, so in the Summer of 1995 Hope Valley Touch Football Competition Commenced.
Several State Players played in the teams that competed in that first Summer Competition with Michael Sheeky's team "The Housemen" looking the goods to take out the inaugural Division 1 Premiership with a very young and quick State Representative Team. However, Bill had his own Demons Touch Football Team, sponsored by Café Buongiorno's TTP, with some pretty experienced players playing in that team, Justin McInerny and Sharlean Stead, just to drop some names and the experienced paid off; Demons Touch Football Team won the prestigious inaugural Grand Final game against the much fancied Housemen in the last seconds of the game to take out the inaugural Premiership for what is now a competition that's into its 22nd Summer Season, 21 years young!!
The Affiliate has experienced some great highs with Representative Teams doing really well at the Mt Gambier Challenges and Colley Reserve Competitions plus we have had several Representative Players and Officials involved at Regional, State and National Levels. We also currently have the Number 1 Women's Referee in Australia, Amanda Sheeky, as our Referee Coordinator and Official Referee, who literally has grown up and developed in our Affiliate as have several of our players who have been involved from the start and have grown over the 21 years since it's been established. Demons also started their own Juniors Competition which has now been running for 5 seasons.
Team Numbers have hit highs of 21 teams and we are currently running a 16 Team Summer and 12 Team Winter Competitions with the AFL 9's having an impact on team numbers in recent years.
In the tail end of the 2014/15 Summer Season, February 2015, Hope Valley Touch Football Club relocated to Campbelltown Memorial Oval due to some internal politics within the then Hope Valley Sporting Club which Bill, was at the time, the Chairperson, but had decided to stand down from that position. This effectively meant he would have had to walk away from the Touch Football Competition he had created as well, but the then Committee decided unanimously to relocate the Competition so Bill could still be involved in the Club he created and we were very fortunate that Campbelltown Memorial Oval was available on Wednesday Nights and we were able to share the Playing Fields with the Monday Night Botanics Competition for the balance of that Summer Season.
This relocation was also the trigger for the Hope Valley Touch Football Club to stand alone as it no longer came under the Hope Valley Sporting Club umbrella so it become incorporated in 2015.
The change of name to Demons Touch Football Association, DTFA, was a year later when it was decided it needed to drop the Hope Valley From the name as it caused confusion as regards where games were played but to keep that tie with its past it was voted unanimously at the 2016 AGM to change its name to Demons Touch Football Association and a brand new Logo was created for our Competition.
The collaboration of the two Affiliates Botanics and Demons has worked out very well and hopefully will continue to grow such that Campbelltown Memorial Oval will be seen as the place to play Touch Football in the Eastern Suburbs.
Demons Touch Football Association Honour Board;
Chairperson
W Sheeky 1995 – 2017
Secretary
J Sheeky 1995 – 2004
Vacant 2004 – 2012
E Organ 2012 - 2017
Treasurer
J Sheeky 1995 - 1999
D Doz 2000 - 2004
S Zbierski 2004 - 2006
S Vagenas 2006 – 2017
Admin Officer
S Zbierski 2003 – 2017
Referee Coordinator
W Sheeky 1995 – 2014
A Sheeky 2014 – 2017
Child Safety Officer
A Barnett 2012 – 2017
Demons Perpetual Sheild (Donated By Michael Gaskin in 1999)
1999/2000 Bill Sheeky
2000/2001 David Doz
2001/2002 Michael Gaskin
2002/2003 Raggies
2003/2004 Simon Zbierski
2004/2005 Maureen Lambert
2005/2006 N/A
2006/2007 Stella Vagenas
2007/2008 Michael Sheeky / Scott Sheeky
2008/2009 Alby Bartsch
2009/2010 Amanda Pacella
2010/2011 N/A
2011/2012 Jackie Thurgood
2012/2013 Alby Bartsch
2013/2014 Anthony Grandison
2014/2015 N/A
2015/2016 Barnett Family
2016/2017 Leah Dunlop & Peyton Fairbank
Touch Football South Australia Awards
2012 Hope Valley Touch Football Club "Demons" Affiliate of the Year
2012 W Sheeky Administrator of the Year
2013 A Sheeky Referee of the Year
2014 S Vagenas Administrator of the Year
2014 A Sheeky/H Fairfield Kildare Reick Scholarship Winners
2015/16 A Sheeky Referee of the Year
2015/16 M Sheeky Volunteer of the Year