BBQ Menu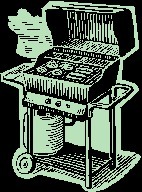 BBQ's are served buffet style.
BBQ's less than 15 will be served plated to your table with a small salad buffet.
BBQ's outside bistro opening times, may incur a surcharge.
Minimum BBQ - 10 people
BBQ's are not all you can eat (1 piece of each per person will ensure no one misses out).
Kid's BBQ (12 and under) $8.50per child
Battered Fish or
Chicken nuggets or
Sausages
Served with chips and help yourself to salad selection on the buffet
BBQ 1 Menu $23 per person
150gm Prime Rib Fillet
Gourmet Sausages
Chicken Teriyaki Skewers
Garden Salad
Crunchy Coleslaw
Penne Pasta Salad
Turkish Bread
Red Wine Gravy
Condiments
BBQ 2 Menu $26.50 per person
As above - add marinated Prawn Skewers
Why Not add some yummy dessert?
Cakes & slices or Cheese & Fruit only $6.50 pp
Deluxe BBQ $45 per person
Perfect for the Corporate Group
Rocket & Parmesan Salad
Mediterranean Salad
Penne Pasta Salad
120g Eye Fillet Steak
Garlic & Thyme Lamb Skewers
Marinated Prawn Skewers
Chicken Teriyaki Skewers
120g Atlantic salmon
Assorted breads & condiments
Why Not add some yummy dessert?
Cakes & slices or Cheese & Fruit only $6.50 pp
*We cater for Vegetarians, Gluten Free & other dietary requirements
(just ask when booking)
Some vegetarian options
Roasted Vegetarian Lasagne OR
Spinach & Ricotta Cannelloni
Please see terms and conditions when ordered catering