Uniforms
All Club Apparel/Uniforms are only available at:

SABC Uniforms, Apparel and Merchandise is supplied through the South Australian Aquatic & Leisure Centre (SAALC), 1443 Morphett Road Oaklands Park, Telephone (08) 8198 0198. To order a uniform, players will need to attend the Retail Store at the Aquatic Centre to be fitted.

The store is located right next to the main entrance and open:
• Monday to Wednesday 8 am to 7 pm
• Thursday 8 am to 8 pm
• Friday 8 am to 6 pm
• Saturday 8 am to 4 pm
• Sundays and Public Holidays 10 am to 3 pm


PLAYING NUMBERS
Issued by the Club Admin (0413 415 330), and it is best to make contact before purchasing your new uniform.
See the below attached file for all SABC Uniform and Merchandising details

Want to play for South Adelaide Panthers?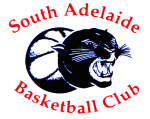 "Success is peace of mind that is the direct result of self-satisfaction in knowing you did your best to become the best that you are capable of becoming." - John Wooden