Mark Davis Basketball Camp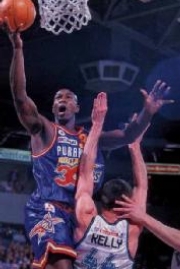 Mark came to South Australia from the US via New Zealand in 1985 to play for the South Adelaide Panthers. He was an instant sensation in the Senior Men's District competition where he dominated the game for the next decade winning the South Adelaide Senior Men's Best and Fairest award a record 10 years in succession.
He is a 5 time recipient of the Woollacott medal (awarded to the Most Valuable Player in the Senior Men's State league competition). He joined the Adelaide 36ers near the end of 1985 and over the next 16 years established himself as arguably the greatest player to have ever played for the sixers. In 1987 he was recognised as being the best player in the NBL and was awarded that years M.V.P.
Mark currently runs his 'Mark Davis Basketball Camp' every year in January. Mark is a legend of the Club, part of the South Adelaide Basketball Club family and helped establish the Club as a basketball force during the late 80's and 90's.
The Club highly recommends his basketball camp to its junior players where they will make new friends and learn from the very best.
See attached flyer below for further details or visit 'Mark Davis Basketball Camp' web page - www.markdaviscamps.com.au
Last Modified on 22/01/2013 21:25