Warehouse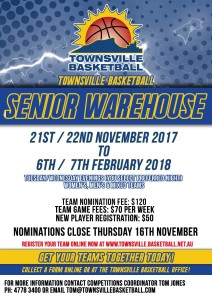 Are you looking for a great way to stay in shape and have some fun with your friends this summer ?
Get involved with the Townsville Basketball senior warehouse competition! Come and play in a relaxed atmosphere and join in all the fun of Townsville favourite team sport!
Its your chance to nominate your teams into the 2017 Senior Warhouse Competition.
Team Nomination Fee $120 (paid online at time of registration)
Team Game Fee's $70 (paid weekly prior to your game)
New player registration $50
Tuesday Night Competition
Wednesday Night Competition
You choose which night you like to play. (Women's, Men's & Mixed Comp).
Nominations Close Thursday 16th of November