2012 Basketball Season Starts Soon
from TOWNSVILLE BULLETIN
TENSIONS were high at the Townsville Crocodiles yesterday as the players got back to their roots.
Old rivalries were reignited as Michael and Chris Cedar (Whirlwinds), Keegan Tudehope and Peter Crawford (Bouncers) and rookie point guard Mitch Norton (Blackstars) kitted up in the local club uniforms.
But it was all in fun, as they launched the Crocs' Player Ambassadors program to encourage more players to get into the sport.
"We have five guys from North Queensland in our (NBL) side right now, so you can go and watch a Crocs game as a youngster and think 'that could be me'," said Crawford, who played for Bouncers from a 15-year-old before making it through to A-grade.
"There's definitely a feeder program there to become an NBL player. Have a look at Mick Cedar, he was shooting the lights out locally, he travels five minutes down the road to the Crocs and now he's captaining the team."
However, Mount Isa product Crawford, who was recently named in Townsville's team of their first 20 years, said the Player Ambassadors program wasn't just about reaching basketball's elite level.
The shooting guard said equally important was the chance to make new friends while keeping fit and active. "It was a real family that I had within that group and I'm still mates with them now," he said.
"It was real social ... a team that plays together, parties together, hangs out together, plays a bit better together."
For information on club sign-on days, which start from tomorrow, visit www.townsville.basketball.net.au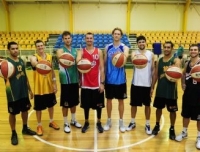 DIVIDED LOYALTIES: Crocodiles players, from left, Michael Cedar, Peter Crawford, Ben Allen, Russell Hinder, Luke Schenscher, Todd Blanchfield, Chris Cedar and Mitch Norton show off their local basketball affiliations
Last Modified on 27/01/2012 18:55