Girls Development Skills Acquisition Academy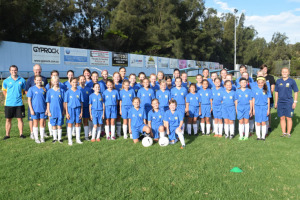 Girls Only Development Academy Program
FSC is taking the lead in football development for the growing number of young girls playing the game and is introducing programs as part of a Girls Development Pathway.
There are currently 2700 female players in FSC registered competitions, with over 2000 female junior players.
To encourage participation and development FSC is very proud to be focussing on development, specifically for our younger female participants.
The program has been endorsed by Alen Stajcic, the Matilda's coach. Glenn Fontana the FSC Technical Director has initiated the program to encourage further participation and to cater for the growing interest of females playing the game.
"This is an exciting period for football and the growth of females in the sport. We at FSC are always looking at ways to encourage participation in women's sport and cater for all players no matter what level they aspire to play" Fontana said.
The program will be overseen by Glenn, Jonathan Forster (FSC Technical Director) and FSC highly qualified coaching staff.
The Girls Development Pathway :
U7 - U15 – Girls Development Skills Acquisition Program (Academy)

This is based on the FNSW skill acquisition principals and is consistent with the FFA National Curriculum, working on the 4 Core Skills:
Running With the Ball
First Touch
1v1
Striking the Ball
Preliminary details of our 2018 FSC Girls Development Skills Acquisition Program are:
Session details:
Training will be two nights per week until Easter.
After Easter training will be 1 night per week until the completion of the program.
The program is scheduled to commence in February 2018 and conclude in August 2018.
Girls Development SAP does not train through the school holidays
Venue & Time:
TBA
Inclusions:
1 x Training kit
1 x Tracksuit
1 x Football
35 x training sessions
Cost:
$710 per player (payment plan available)
Optional item for purchase: Backpack $30
Gear Fit Out:
TBA
Expressions of Interest now open - please click HERE to register
If you would like further information regarding the program, please contact our office at admin@footballsouthcoast.com.