Quality Club Programs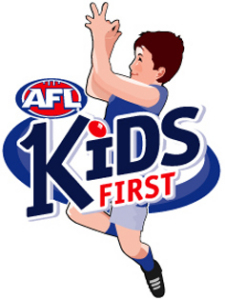 The AFL Kids First is a program to guide parents so that both they and their children obtain the maximum benefit and enjoyment from their participation in junior football.
Barracking and wanting your child to perform well is human nature, but it's critical this should be done in a responsible manner avoiding the ugly parent syndrome at all times.
The basic principles of AFL Kids First are to remind parents that:
Sport for children is a vital part of their growing up

Children like to win, but more importantly, they want to have fun

Parents need to set the right example at the sports ground and should be proud of their child's efforts irrespective of the result
RUNNING THE PROGRAM IN YOUR CLUB
Prior to the start of the season, all clubs are encouraged to hold a club based AFL Kids First Session for new parents. At the clubs discretion, the club may involve returning parents as well. To undertake the program, download the resources below
Download the program resources below to run the session at your club.
RESOURCES
Run Sheet (PDF)
Parent Register (EXCEL)
Presentation (POWERPOINT)
Manual (PDF)
Parent Code of Conduct (PDF)
Poster (PDF)