Macca's Volunteer of the Month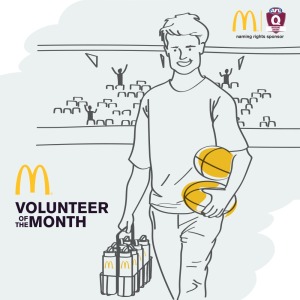 McDonald's Brisbane and the AFLQ Brisbane Juniors want to celebrate and acknowledge the generous contribution of our club volunteers!
The Macca's Brisbane Volunteer of the Month is a special opportunity to recognise and reward the commitment of the McDonald's AFL Brisbane Juniors volunteers based on the McDonald's Brisbane and AFL QLD principles of supporting the community and encouraging kids to be active.
From early July volunteers associated with a McDonald's Brisbane Junior AFL Club can be nominated by their Club President via email. The nomination must include the person's name, club name, picture and a brief description (50 words or less) on this volunteer's contribution to the game. All nominations can be emailed to Tony Saunders on Tony.Saunders@afl.com.au by the end of each month of the promotion.
The monthly prize on offer is a Premium 2018 Brisbane Lions Membership valued at approx $465. The program will run for the months of July, August and September 2017, meaning we shall award 3 winners in total.
For more information please email Tony.Saunders@afl.com.au.
To keep up to date with nominations and winner announcements please visit us at our Facebook page.

Thank you to all the volunteers for their generous contribution to the game!