.
2007 Annual Report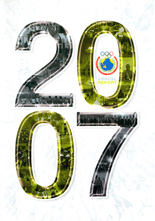 Marshall Islands National Olympic Committee
2007 Annual Report to ONOC

1st Annual RMI National Games
In conjunction with Marshall Islands' May 1 Constitution Day, MINOC held our first annual RMI National Games. Nine sports were represented: Softball, Table Tennis, Lawn Tennis, Basketball, Volleyball, Athletics, Canoe sailing, and two traditional sports, with over 1,000 participants.
During the organizational preparation for the Games, MINOC President Kenneth Kramer was elected as Co-chair and Volleyball Federation President Charles Abraham was Chairperson of the sport committee. The associated National Federation heads were named tournament/ event directors and coordinators. The Games were funded by RMI Government, who donated $150,000, and Olympic Solidarity, who approved $15,000. This financial support allowed us to pay a stipend to umpires, officials and referees, feed federation volunteers and officials, provide transportation for tournament/ event directors, and promote MINOC involvement with an event t-shirt. All in all, the first RMI National Games was a great success.
The greatest challenge we experienced in organizing the Games was domestic travel. We were able to use the government transport ships to bring participants from our-lying atolls to Majuro for the Games.
Federation Updates
Athletics
The Marshall Islands Athletics Federation held elections this year to elect new officers. Iroij (High King) Jurelang Zedkaia, who is the new MIAF President, was recently elected to the position of Speaker of the Nitijela (our national congress), and continues to be a great ally in MIAF's national efforts.
The First Annual RMI National Games in May helped MIAF to identify much new talent and we will be requesting Olympic Solidarity funding to further develop this federation in 2008. Wilson Hesa took second place in the 5K Coca-Cola Fun Run in Nauru in June. A delegation participated in the Micronesian Regional Championships in Guam in December. Because Athletics is an individual sport, with additional OS support and training we believe MIAF can become competitive at a regional level.
We are currently in discussion with the government about building a multipurpose track. Two locations are under consideration.
Basketball
Basketball continues to be the most popular men's sport in the Marshall Islands. However, there is an increased interest by females due to the year-round leagues and the availability of basketball courts in each community. Marshall Islands Basketball Federation organizes year-round youth, adult and "old-timer" leagues.
There was fierce competition between atolls during the First Annual RMI National Games in May and again in September at the 9th Annual Ratak-Ralik National Tournament. There was an exciting new development during the R/R Tourney: for the first time since the events' inception, two outer island teams won both first and second place. The rural outer atolls of Likiep and Rongelap nudged out urban centers and defending champions Majuro and Kwajelein Atolls for the top two seats. This indicates an expansion of talent beyond the more populated atolls.
Although RMI did not send a basketball team to Samoa for the South Pacific Games, Referee Sailass Kotton officiated 8 games during SPG. He later received a very positive evaluation from Steve Smith, Secretary General of FIBA Oceania, who recommended that Kotton for Level 2 and "would like to see Sailass at another FIBA Oceania International Tournament for consideration for FIBA Oceania Badge."
Lawn Tennis
The Marshall Islands Lawn Tennis Federation is very active on Majuro Atoll with several local clubs and year-round tournaments. Three of the four existing courts on island were recently renovated. The Lawn Tennis Federation sent a team to the South Pacific Games. Also, Marshallese tennis star West Nott competed for the Oceania Team in the Davis Cup.
Softball/Baseball
The Marshall Islands Softball/ Baseball Federation continues to be very active following their silver medal win at the Micronesian Games last year. Both men's and women's softball provided great competition during the First Annual RMI National Games. For the first time, women played under new fast-pitch guidelines. Also, the MISBF developed a second softball field in town.
In preparation for the National Games, Development Officer Ray Brown visited RMI to deliver training for baseball coaching and umpiring. Four participants attained their Level 1 Coaching Accreditation and eight received their Level 1 Umpiring Accreditation. The other National Federations saw how Solidarity Programs can link with major tournaments to develop the capacity of officials, referees and coaches.
Although Ray brought excellent course materials with him for the training, the language barrier was a significant challenge. This has prompted the MISBF to begin translating these materials into Marshallese for future use.
We received Olympic Solidarity funds to purchase much-needed equipment, including pitching machines.
MISBF President Jeimata Nokko Kabua has been very active with the IBAF this year. He attended an IBAF Extraordinary Congress in Beijing, China, and another IBAF Extraordinary Congress in Frankfurt, Germany.
Swimming
Coaches Cris Lindborg and Sarah Stepchew led a team of five swimmers, including Solidarity Elite Athlete Scholarship recipient Jared Heine to the XII FINA World Championships in Melbourne, Australia. FINA assisted with transportation and room/board funding for four athletes, Olympic Solidarity provided additional funding. Because Marshall Islands has a very active federation and participated at the previous three World Championships, FINA increased its assistance from two athletes for the last competition to four for this competition.
The additional visibility in the international circuit has improved the level of swimming and participation at home. There are now eleven youth from Ebeye and several more Marshallese residing in Kwajalein who have joined the Marshall Islands Swimming Federation. They are also hosting a coaching clinic as part of the FINA sponsored Development Program, and hope to bring this program to Majuro as well.
Jared Heine continues to train for Beijing and compete in hopes of attaining an Olympic qualifying time.
Table Tennis
Over 50 men and women participated in the table tennis competition during the First Annual RMI National Games. Much of this interest was generated through the work Marshall Islands Table Tennis Federation President Luon Erakdrik is doing to organize intramural school tournaments. The purchase of new equipment, including a computerized ball "pitching" practice machine.
Toward the close of the year MITTF submitted several regional grant proposals to support the intramural school programs. We are hopeful that these proposals will be funded. MITTF continues to greatly benefit from Korean national Coach Myoung Kook Ji, who volunteers his time and expertise to the Federation. Table Tennis will also benefit from use of the new International Convention Center.
Taekwondo
The Marshall Islands Taekwondo Federation is RMI's newest federation. Athletes Jason Sam and Anju Jason have been training with their coach, Brian McCutcheon, for the last ten years and have both attained their second-degree black belts in the sport of taekwondo. Both athletes have consistently medaled in US national events.
Jason Sam, Anju Jason and Coach Brain McCutcheon, represented the Marshall Islands Taekwondo Federation (MITF) and Marshall Islands National Olympic Committee (MINOC) when they participated in the Oceania Olympic Selection event to select athletes for the 2008 Beijing Olympic Games, which was held on 1st December 2007 in Noumea, New Caledonia.
Anju Jason earned the gold medal in his weight class, defeating athletes from both Australia and New Zealand. His gold medal win qualifies him to represent RMI and compete at the Olympic Games in Beijing. It also earned him a place of honor in the RMI history books as the first Marshallese athlete to ever qualify for an Olympic Games.
Volleyball
Volleyball continues to be the most popular women's sport in the Marshall Islands. However, the sport is growing in popularity with men due the organization of year-round leagues and the ready availability of nets through the communities. There are active intramural elementary and high school leagues. Volleyball generated great competition during the First Annual RMI National Games in May.
We will be requesting assistance from Brian Minikin to help professionalize the Marshall Islands Volleyball Federation. We will be requesting Olympic Solidarity funding for this effort and also to develop beach volleyball.
Weightlifting
Last year we reported the start-up of a weightlifting club in Laura Village. The club continues to grow as we recruit potential lifters. This Federation will greatly benefit from use of the new International Convention Center. This facility will allow competitions which previously had no venue. We have developed relationships on the outer-lying atolls of Woje and Kwajelein and will be starting clubs there in 2008. The Marshall Islands Weightlifting Federation has also helped develop fitness programs for some of the other federations who are using their facilities.
Wrestling
The Marshall Islands Wrestling Federation boasted two medals the South Pacific Games: Waylon Muller took a silver medal and Jeton Anjain won a bronze. Unfortunately, Waylon was unable to compete at the World Championships due to an injury.

The Wrestling Federation is currently in the process to recruiting young talent. Our veteran wrestlers are going to university and taking employment, but will continue to help develop infrastructure with new athletes.
The Wrestling Federation received a new wrestling mat from FILA, which made the old wrestling mat available to go to another training site. This will enable competition, which has been a very difficult endeavor due to the lack of equipment and facilities. This Federation will also greatly benefit from use of the new International Convention Center. This facility will allow competitions, which previously had no venue.
MINOC Update
One of our top priorities for 2007 has been professionalizing MINOC operations and administration. An office space in the district center for the MINOC Office Headquarters has been renovated and we have moved in. We have hired a full-time MINOC office staff member. We are currently training this staff member so we can reach our performance measures, timely reporting, correspondence and take advantage of solidarity funding programs. This staff member will also be assisting in capacity building within the federations in regards to solidarity programs and IT support. The office will be a resource center for the national federations. They will have internet access and be trained to apply these IT skills to strengthen their federations' management and administration.
Facilities
Construction of a 38,000 square foot multipurpose International Convention Center (ICC) was completed in October. The NOC was asked to review the architectural plans for our input, and our ideas were integrated into the finished venue to accommodate sporting events.
The turn over of management of the Government-owned National Gymnasium to the MINOC is seriously being considered. We've been able to use the Palau model as leverage in this effort.
We are currently in discussion with the government about building a multipurpose track. Two locations under consideration, one in the district center and one in Laura Village on the opposite end of the island.
Design and drawings of a lighted baseball/ softball field are completed.
All the public schools on throughout RMI have recently undergone extensive renovations. Pictured is Marshall Islands High School, which is the proposed sight for the 2010 Micro Games Olympic Village and can easily house all athletes.
These projects were an on-going commitment by the Government to develop much-needed sporting facilities and, in part, to position our efforts to host the 2010 Micronesian Games. We have just learned during the process of developing this report, that we have been awarded the bid for these Games.
Olympic Solidarity Funding
We've been developing our capacity by training NFs about IOC's World Programs and ONOC's Continental Programs, utilizing information provided by IOC videos and Power Points delivered by Dennis Miller. We have had to educate our NFs and ourselves that there are great opportunities provided, but that with these funding awards come accountability and performance measures. We, as an NOC, see the great potential that Solidarity Funding offers through the World and Continental Programs. We realize that the administration, management and development of our sports federations and the NOC will determine the submissions and success these programs offer. MINOC is working to develop internal protocols to support the Continental and World Program objectives. In short, the programs are there. We understand clearly that there are great opportunities and staff and that Robin, Nicole, Dennis, Brian an d ONOC staff can only help us with the things that we ask of them and in turn answer the questions they have asked of us. This upcoming year we will be very proactive in seeking the assistance that is available.
President Kenneth Kramer represented MINOC at the ONOC General Assembly in March. This was a great opportunity to hear all the Oceania Reports and he has prioritized the development of a Women in Sport program in the Marshall Islands. The OSFO report and subsequent dialogue with other IFs brought to light the fact that we are not taking full advantage of all of the opportunities afforded by the IFs. This was also a great opportunity to meet with IOC/NOC relations departments. Due to the fact that we are an NOC, President Kramer could see the linkages between IOC, ONOC, ANOC, OSFO and all their committees. It is the responsibility of the NOCs to be proactive in taking advantage of all the services they have to offer.
MINOC Secretary General Terry Sasser attended the 7th World Conference on Sport and the Environment in Beijing, China in October. This was a great opportunity to network with, not only IOC and other NOCs, but also with other high-level regional agencies, which varied in range from Adidas to United National Environment Program (UNEP). This event enabled us to network and share ideas and spend quality time with Robin Mitchell, Nicole Girard-Savoy and UNEP's Theodore Oben. Because we attended the conference, we are now working to secure funding for a project in partnership with Cousteau's Ocean Futures Society and UNEP, using our athletes to deliver conservation messages about our coral reef ecosystems and the environment. Robin and Nicole have encouraged us to submit an Olympic Solidarity World Program Promotion of Olympic Values Sport and Environment proposal.
Secretary General Terry Sasser, joined by Chef de Mission to Beijing Anthony Muller, then traveled to Sydney, Australia to the annual ONOC Secretary General / Chef de Mission meeting. The meeting was very informative and answered many of the questions we have going into our first Olympic Games. Especially helpful was the wealth of knowledge passed down by President Kevan Gosper, Secretary General Robin Mitchell, Nicole Girard-Savoy, the BOCOG delegation, ONOC staff and many of the NOCs in attendance. It was very clear to MINOC's delegates what a professional staff comprise ONOC. Dennis Miller, Brian Minikin, and Edwina Ricci made impressive presentation on the new proposed web-based reporting and the individual NOC webpages we are not fully taking advantage of. We have already made arrangements to fly one of our staff to Melbourne to further train with the SportingPulse team and better utilize this resource. Anne King's announcement about the newly formed Oceania Foundation was quite exciting and we look forward to joining our efforts in its development.
In closing, we look forward with great enthusiasm to 2008. This will be a historical year for the Marshall Islands as we will participate in our first Olympic Games. The journey from our IOC membership to this point has been overwhelming but also brings with it a great sense of pride. We are very grateful for the efforts of all involved. We as a country and an NOC, along with our federations, would like to extend our sincere gratitude and best wishes for a prosperous 2008.


President Kenneth Kramer
Sec. Gen. Terry Sasser



Last Modified on 16/10/2017 13:52