BLAS, R.J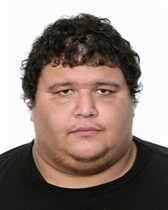 Country: Guam
Birth Date: October 19th 1986 (Age 25)
Gender: Male
Height: 185cm
Sport: Judo
Event: Men's +100kg
Athlete Background Story:
He's been in the family trade for years. But for Ricardo Blas Jr., the family trade isn't mining or the army – it's judo.
Blas has grown up surrounded by judokas; his father and two cousins were all Olympians for Guam in the sport.
Witnessing his father's achievements from a young age had a big affect on Blas. "The biggest influence I think, he got me started" Blas said of his father's role in his sporting dream.
With the support and encouragement of his father, Blas began learning judo at the age of five and competing internationally in judo at the age of just 13.
He reached the pinnacle of his career after being selected for the 2008 Beijing Olympics following an impressive series of results on the international judo circuit.
Although he competed valiantly, the then 21 year old lost both his first round match to Georgian Lasha Gujenjuani and to American Daniel McCormick.
Since that moment Blas has been working hard on mastering his judo, and in turn improving his results.
These efforts showed throughout the following years as he placed second in the US Open held in San Jose in 2009 and seventh in the 2010 Oceania Judo Union Championships held in Canberra.
Blas' efforts continued throughout 2012 and the lead up to the Olympic Games, placing third at the Hong Kong International Tournament.
Blas backed up this great result with a fifth place in the 2012 Oceania Judo union Championships in Cairns and a third place in the 2012 PJC World Cup held in Miami.
As a result of these achievements, Blas qualified to compete for Guam at the 2012 London Olympic Games.
After a great preparation Blas competed in his event, the men's 100kg+ judo, on Friday 3rd of August.
As this was his second Olympics appearance, Blas was very keen to make his mark on the Games and improve on his previous result and he achieved just that.
The 25 year old made history by winning his first round bout with Guinean Facinet Keita, handing Guam their first ever win at the Olympics.
Blas was thrilled with his first round result, saying "it's amazing: any Olympic win is an amazing feeling."
Blas, who won the fight 101 to 0002 in just 2:53 seconds later, opened up about facing his opponent.
"It was tough. I went in there, I didn't want to overestimate or underestimate… I just went in with an open mind," he said of the encounter.
It was a tactic that clearly worked for Blas, as he was able to decipher his opponent and win with an ippon move (the highest scoring move) to close out the match.
The crowd was in full support of Blas, cheering him on and urging him to win against the Guinean. Blas was very pleased to have the home nation's support, "I'm glad they like me," he said.
His first round fight was full of excitement for the crowd, but the experience was somewhat different for the 25 year old.
Blas described the transition from the corner to the mats as "…going from hot to cold…it shocks you."
However, it quickly became apparent that the shock only pushed Blas to win the fight as he did so in magnificent style.
After his first round victory Blas was optimistic. "I feel good, I feel the momentum and I hope I can keep it going," he said in an interview after his event.
Although, Blas' Olympic dream was not meant to be, as he was defeated in the second round by Cuban Oscar Brayson 100 to 0001.
Although disappointed by the loss, Blas was able to put it in perspective, even seemingly content with a loss to what he himself described as a "great player".
Although unsure of whether he will compete at the 2016 Games, Blas made the vow that "if I do make that decision it will be (a) 100% commitment".
Blas has dreamed of making Guam proud his entire life and this appears to have become the main drive behind his recent success.
"None of this would be worth it if it weren't for them and me being able to share it with them," Blas said of his country's support.
His country was at the forefront of Blas' mind after his historic win. "When I won all that was going through my head was everyone's face I could have thought about," he said.
However, after a taste of Olympic victory, Guam would be hoping that Blas will seek to improve on his history making performance and hopefully create more history for Guam in 2016.
By Alana Christensen of The Reporters' Academy