#GirlsPlayToo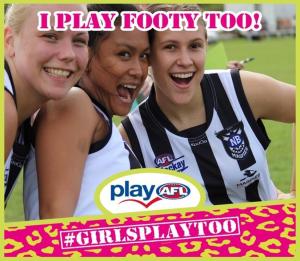 #GirlsPlayToo
We'd like to say AFL is female sport's best kept secret, but with over 50,000 Queenslanders playing we think the secret might be out!

In fact, AFL is one of the fastest growing sports in Australia with more than 169,000 females playing the game Australia wide.

What's so great about AFL?

---
That's easy ... AFL is an awesome way to get fit, make friends and have fun.

If you love to laugh, want to be active and hang out with your friends (or make new ones) then you'll love AFL.

New to the game?

---
AFL caters for all ages and abilities, so it doesn't matter if you know a lot, or very little, about the game.

Our coaches are there to help and will teach you all the skills and rules you need in a safe and friendly environment, so you'll be kicking and handballing like a pro in no time at all!

Where to play?

---
Clubs have junior and senior Australian football competitions for girls and women all around the country. Find your local club
here

NAB AFL Auskick: Ages 5 - 8

NAB AFL Auskick introduces primary school aged boys and girls and their families to AFL

In a weekly coaching program, children learn the skills of the game through modified activities and rules in a fun and safe environment

AFL Junior Football: Ages 8-12

Junior football rules are modified to meet skill level and safety needs

Girls and boys play in a structured mixed gender football competition
Youth Girls: Ages 13-18

Girls can play in mixed-gender teams up to the age of 14

Click here to find out if there is a Youth Girls competition in your area

Senior Competitions

Girls can play in senior competitions from age ?
To find your nearest completion
Click here

Want to Coach?
---
AFL Queensland offers a range of courses which provide quality training and resources to help you become a great Australian Football Coach
Click here to learn more

Want to Umpire?
---
Umpiring is a great way to be involved in the game. It provides an opportunity to get up close to the action while teaching outstanding life skills such as leadership, assertiveness and decision making.
Click here to learn more