3 Point Program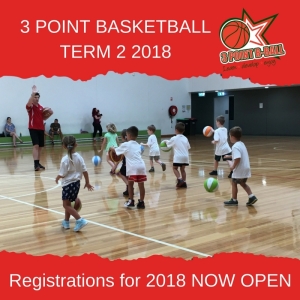 3 Point Program for Term 2
DVBA is excited to announce that the starter program, '3 Point B-Ball', for children 5-8 years of age, is open for registrations for Term 2 2018!

The program focuses on the fundamentals of basketball through learning, development and above all, enjoyment.

"The 3 point program is a fantastic introduction to the game of basketball for both young girls and boys. Learning skills in a friendly & fun environment is the perfect way to fall in love with the game" - Al McAughtry, Director of Coaching, DVBA.

To accommodate for our expanding community we have 4 venues for our 3 Point Program, Diamond Valley, Diamond Creek, Laurimar and St Helena. All four venues will run an 8 week program which costs $77 for each participant and all new members receive a T-Shirt and basketball. If you are a returning participant, the cost will be $50 which will not include the basketball and t-shirt.
Community Bank Stadium – Diamond Creek
Monday 4pm – 4.45pm
First session is Monday 23rd April 2018
Click here to register
St Helena Secondary College
Tuesday - 3.15pm - 4pm
First session is Tuesday 24th April 2018
Click here to register
Diamond Valley Sport & Fitness Centre
Wednesday 4pm – 4.45pm OR
Wednesday 4.45pm – 5.30pm
First session is Wednesday 2nd May 2018
Click here to register
Laurimar Primary School
Friday 5.30pm – 6.15pm OR
Saturday 10am – 10.45am
First session is Friday 27th April and Saturday 28th April 2018
SOLD OUT!
For more information please call the DV Office on 9432 4720 or email Matthew Stewart at matt@dvbasketball.com.au