Aussie Hoops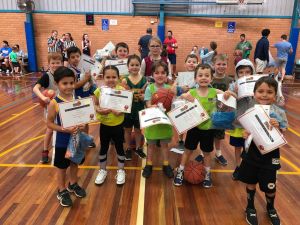 Aussie Hoops is back at CHBA
Saturday 9am to 10.00am
Saturday 20th October at 9am will see the kick off of the Term 4 program of Aussie Hoops at CHBA.
Aussie Hoops is Basketball Australia's official junior development program for 5-10 year olds and their families. It is a national program that provides an environment where children of all abilities can achieve on the court and reap the rewards of skill development, enhanced self-esteem, social co-operation and grassroots sports participation.

Put simply, Aussie Hoops introduces children to basketball in a structured and accredited environment that connects our game at the grassroots through to the elite level.

Aussie Hoops core values are:
- Fun and safe
- For boys, girls, parents and caregivers
- Accesible and inclusive, nationwide.
For anyone interested in joining the Aussie Hoops program commencing at Sportz Central Bray Street, Coffs Harbour will need to head to aussiehoops.com.au to register. The cost this term is $80 for all new participants which includes player registration, 6 weeks of training and games as well as the particpant pack (includes a ball, backpack and a reversible singlet). For participants who have taken part before, the cost is only $60 for the term.

For more information, please visit the Aussie Hoops website or phone the office on 66511452.