Come & Try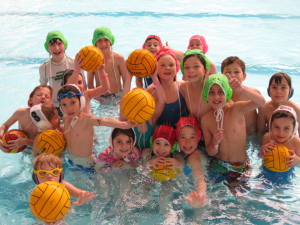 Come & Try Schools Program
Come & Try water polo sessions offer a flexible delivery mode that can be targeted to participants of any age or ability. These sessions can be 'one off' bookings that provide participants with the opportunity to experience aspects of what water polo is like, or delivered as a term long program.
Sessions can be tailored to meet the needs of the target group and can run from anywhere between 40 minutes to 1.5 hours. The skills and game awareness covered in Come & Try sessions is slightly more advanced than Flippa Ball, with the progression of skills generally occuring at a faster rate. These sessions are a great way to improve participants team work skills, ball handling skills, and giving participants a more substantial understanding of the rules of water polo.
At the conclusion of a Come & Try program participants will have the necessary understanding and ability to be a member of a school team or join a local club and take part in Water Polo Victoria's regular competition.

What equipment is needed for Come & Try programs?
Ball: The ball used can depend on the skill level of the participants, with the most commonly used size being between a Flippa Ball and a full size water polo ball. They are available through Water Polo Victoria.
Goals: Regular sized water polo goals are 2 m wide and 0.75 m high. Goals may be contructed out of polypipe or be as simple as two cones or two garbage bins at either end. Commercial versions are available, including inflatable options. Contact WPV for more information.
Pool: Depending on the ability and confidence of the participants, Come & Try sessions can take place in deep or shallow water, and would usually require a space of around 25 m x 20 m. If this space was not available, programs can be tailored to suit the facility.
Cones: One set of plastic cones or markers consisting of:
4 x red
4 x yellow
4 x white
Caps: You will need two sets of caps to identify the teams. Water polo teams play in white or blue numbered caps with the goal keeper wearing a red cap. Water polo caps are fitted with malleable ear protectors to safeguard the players' ears.
Timing Equipment: You will need timing equipment such as two stopwatches: one for the possession time of 30 seconds and one to monitor the game time. More expensive and commercial versions are available. Please contact WPV for more information.

Program Duration
Come & Try is best suited to a 6 to 8 week program, with skills being progressively introduced across the program. They are also very flexible in their ability to be run as 'one off' sessions for groups. In a 6 - 8 week program, each session duration can be tailored to suit the time available. A base time allocation of 40 minutes is suitable, with more time required for 'one-off' sessions.
How do you get involved?
Schools are encouraged to contact Water Polo Victoria:
E: development@vicwaterpolo.com.au
P: 03 8560 2140