Bowling Calendar
Caper Captures GSBF Championship Title
Monday 01st, January 1900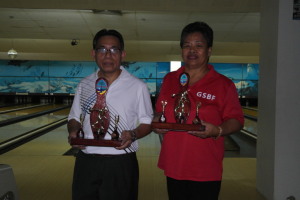 Edgar Caper upset former champion Mary Pangelinan 205 - 191 (with handicap) to lay claim to the 2013 Guam Senior Bowlers Federation annual championship trophy and a $1,000 cash prize. The tournament featured an age and gender only handicap rule.
Pangelinan led the tournament after the 6 game qualifier and 3 game position rounds to get to the top 5 championship round. But in order to get there, Rudy Palaganas had to beat get past Chuck Meno in a 2-frame roll-off for the fifth position.
In the shootout, Palaganas squeezed by 3rd seed newcomer Howard Taylor and 4th seed Jim Pinaula who won the title last year. But Caper stopped Palaganas' title quest in the semifinals 192-152 plus handicap.
In the best of three series for the title, top seed Pangelinan lost the first game but came back to beat Caper in a 2 frame roll-off to force the third match for the senior crown. Both contestants struggled with open frames in the final game but Pangelinan struck in frames 3 to 5 to take the lead. Caper countered with strikes in frames 4 thru 7 to get back in contention. It was a split in the 9th frame that by Pangelinan that afforded Caper the opportunity to snatch the coveted hand made first place trophy and prize money. Pangelinan also received a trophy and $400 for her fine efforts.
The next tournament event is the Senior Bowler of the Month that will be held at 11AM Sunday, February 17th at Central Lanes. This event is open to all bowlers aged 50 or will be 50 by December 31, 2013.
Email Contact:
Sunday, February 10, 2013 - CENTRAL LANES BOWLING CENTER, Tamuning, Guam