Bowling Calendar
Maiden 2013 Youth Bowler of the Lanes title in Camacho's bag
Monday 01st, January 1900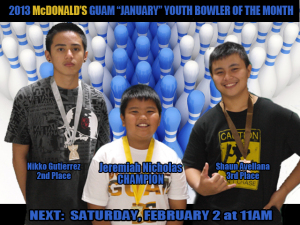 Nine year old Jeremiah Camacho bagged the first tournament title of 2013 in the Guam Youth Bowler of the Lanes in convincing fashion. Camacho led the field during the qualifying rounds with a 849 total edging out Shaun Avellana by seven pins for the top post in the step ladder format finals. Jarwin Espiritu was also six pins adrift as Nikko Gutierrez edged out Paul Kaneshiro by four pins for the final spot.
In the step ladder eliminations, Nikko Gutierrez was able to work his way to the finals by disposing of third seed Jarwin Espiritu 145+45 to 121+59, then easily maneuvered by second seed Shaun AVellana 184+45 to 150+47.
In the finals match, Camacho took an early lead, but Gutierrez was able to keep within range. Unfortunately, that was all he could do as Camacho continued to match Gutierrez each frame to claim the title 145+57 to 135+45.
The next Guam Youth Bowler of the Lanes will be held on Saturday, February 2, 2013 at the Central Lanes Bowling Center at 11:00 a.m.
Email Contact:
Saturday, January 12, 2013 – CENTRAL LANES BOWLING CENTER, Tamuning, Guam