Bowling Calendar
Mafnas Makes Finals with November Title
Monday 01st, January 1900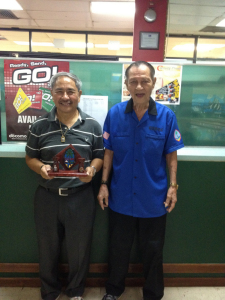 Guam Senior Bowlers Federation president and tournament 6th seed Joe Mafnas made the cut of 16 finalists for the Senior Bowler of the Year by beating out 2nd seed fellow grand senior Kin Sablan 226 to 194 with handicap.
A field of 24 senior bowlers, several of who represented Guam in Kuala Lumpur last month, blistered through the 6 game qualifiers with 6 of them making the top 10. Nestor Valencia and Sablan took the first and second seed respectively.
Bracket 1 of the shootout saw 10th seed Ben Taimanglo beating out 9th seed John Crisostomo and 8th seed Rudy Palaganas. The second bracket had 6th seed Mafnas, nipping 5th seed Zaldy Ponce and 7th seed Terry Roberto.
The quarterfinals ended with Mafnas upsetting 4th seed Jim Pinaula and 3rd seed Fidel Ogo stopping Taimanglo to advance.
Mafnas continued his title run with an upset victory over top seed Valencia. Sablan meantime handed Ogo his loss that led him for his title run against Mafnas.
In the finals, Mafnas took advantage with steady scoring in the opening frames plus a couple of Sablan miscues to string a set of marks to secure the coveted trophy.
The 2012 Guam Senior Bowler of the Year tournament will be held 11AM Sunday, December 2nd, at Central Lanes. The top 16 senior tournament bowlers for this championship are comprised of the returning finals champion from 2011, the winners from January to November this year, and the next bowler(s) with the highest tournament points total accumulated during the past year. The event will feature the defending 2011 champion and gold medalist in the women's single division at the October Kuala Lumpur senior tournament, Mary Pangelinan.
Email Contact:
Sunday, November 18, 2012 - CENTRAL LANES BOWLING CENTER, Tamuning, Guam