Bowling Calendar
Camacho lands second youth bowler title
Monday 01st, January 1900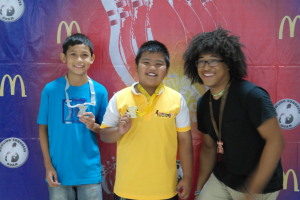 Jeremiah Camacho earned his second youth bowler of the lanes monthly title as he knocked out top seed Jarwin Espiritu and third seed Dioni Borja in the step ladder format finals. There were no climatic endings to these matches as the nine-year old displayed poise and desire throughout the step ladder matches.
After Borja eliminated 4th seed Noah Taimanglo 165+33 to 122+39 in the first round, he ran into a road block in the form of Camacho. Borja was unable to stop the consistency of Camacho as he settled for third place with a 131+33 to 191+63 drubbing against the younger foe.
Camacho continued his prowess on the lanes as he pulverized the top seed 177+63 to 122+72 to win the monthly crown.
Espiritu led all competitors during the four game qualifying rounds with a 832 total including handicap followed by Camacho (804), Borja (793), Taimanglo (788). Shaun Avellana (783), Jayden Flores (727), Zayne Zamora (725), Sofia Auxilian (715) and Jared Nicholas (713) rounded off the top ten.
The yearend Grand Finals will be held on Saturday, December 15, 2012 featuring the top sixteen finalists. Finalists are based on the point system which include automatic berth to monthly champions.
Email Contact:
Saturday, November 3, 2012 – CENTRAL LANES BOWLING CENTER, Tamuning, Guam