Bowling Calendar
Manibusan claims maiden youth monthly title
Monday 01st, January 1900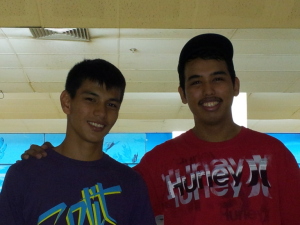 Brandon Manibusan used his handicap advantage to claim his first Guam Youth Bowler of the Lanes title slipping past 2nd seed Greg Borja 165-149 as both bowlers struggled throughout the final match. Borja took early control, however momentum swung to Manibusan's side as Borja was unable to spare throughout the remainder of the set in effect awarding the match to Manibusan.
Borja came from behind in the semi-final round as he took advantage of back to back mishaps from 3rd seed Jeremiah Camacho edging the lower seed 207-201. Camacho reached the second round via a 196-168 victory over 4th seed Paul Kaneshiro in the quarter finals.
Manibusan led the qualifying field with 906 pins as Borja's 827 series settled for second. Camacho finished in 3rd with 794 sticks followed by Kaneshiro 782, Nikko Gutierrez 773 and Jarwin Espiritu 743.
The next Guam Youth Bowler of the Lanes will be held on Saturday, October 6 at 1:00 p.m. at the Central Lanes Bowling Center.
Email Contact:
Saturday, September 1, 2012 – CENTRAL LANES BOLWING CENTER, Tamuning, Guam