About Us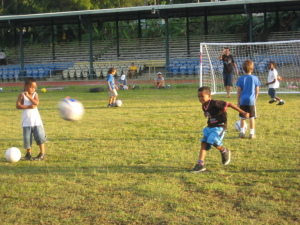 Palau Football Association
Palau is a small island nation in the Western Pacific Ocean with a total approximate population of 20,000. Sports play a big part in the lives of Palauans, though the focus has traditionally been on softball, baseball and basketball. The PFA would like to broaden this focus through the sport of football.
The PFA believes that with some technical assistance to guide us through practical as well as administrative matters, we can achieve success with development of the sport.
Organization:
The Palau Football Association (PFA) was incorporated on May 28, 2002 under the laws of the Republic of Palau as a non-profit corporation. It is one of 14 federations of the Palau National Olympic Committee (PNOC). There is a small volunteer board that is primarily responsible to conduct all the activities of the association along with a handful of volunteer parent/coaches. Average revenue is $800 USD and expenditures have averaged $500 USD over the past few years.
The primary purposes of PFA are to:
promote, develop, and organize the game of football in Palau

promote and develop regional and international competition

build capacity of technical officials, coaches and players in Palau
Activities:
In order to achieve the goals of the organization, the PFA has made concerted efforts to incorporate football at all elementary schools in Palau as a way of teaching the basics rules and sportsmanship. These efforts have also helped to raise awareness of the sport though much more could be done. The PFA promotes football in the context of good sportsmanship, good character, team playing and tobacco free.
In addition to efforts to get football in to the school programs, the PFA conducts very popular after school "camps" for youth of elementary school age (6-13 years old). These camps are held for 6 weeks where organized instruction and play occur 2 days a week for 1 ½ hours after school. Both boys and girls participate in the camps and a $10 fee/child sustains the program. The PFA depends on volunteer parents to assist the head coach with the camps. Often, very young brothers and sisters come to the field and kick around the balls – we encourage them to have fun too. Overall, the PFA reaches approximately 200 youth per year through school and after school activities.
Context
As reported last year in Palau's local newspaper (Horizon, Vol 12 no. 077) April 23-26, 2010), "among the students from 26 schools in 15 states who participated in the Ministry of Health's School Health Screening survey in 2009, 18% are obese and an additional 15% are at risk to develop obesity" (high schools and elementary schools). Non communicable diseases (NCDs) take a huge toll on Palauans and in 2010, the Pacific Health Officers Association (PIHOA) issued a resolution declaring an emergency situation due to the incidence and prevalence of these lifestyle diseases in the region. Sports offer an avenue for exercise and active living to keep kids healthy and set them on a path to make future healthy lifestyle choices. Palau's Youth Tobacco Survey 2009 revealed that 42% of elementary school youth are current users of any form of tobacco (past 30 day use). This is a staggering figure – many youth chew betel nut and add tobacco to their "chew" and others who smoke. Through sports and football in particular, the PFA hopes to support community and school messages to stay tobacco free by adopting tobacco free policies.
Objectives:
There are both practical and administrative objectives of the PFA.
Short and Medium Term Practical
increase physical activity/active living by improving the elementary school-based football program and by creating a youth league

enhance the "after school" football program

train teachers and volunteers to coach and officiate games

have at least 50% of Palau's 16 states enter teams in the 2016 Belau Youth Games

instill concepts of good health, being tobacco-free, good character and playing fair in all participants throughout each aspect of the sport in a positive and supportive environment.
Long Term Practical
develop a national team that can participate in regional and international competition

gain regional affiliation with a regional body (e.g., East Asian Football or Oceania Football Associations)

create a culture of football in Palau
promote the professional or personal development of participants and

promote healthy behaviours
Short and Medium Term Administrative
assess organizational needs of PFA

improve development of football through the creation of strategic and development plans based on assessed needs

increase public awareness of the sport through a sound social marketing campaign
Long Term Administrative
· build the capacity of PFA and community sports leaders such as: coaches, officials, ect.
have a strong and effective Board and Membership that can sustain the momentum of development
Needs/Challenges
In order to maintain/sustain the project, we will need to develop local capacity for coaching and officiating games. There are few people in Palau or in the school system who presently have these skills.
There is also a need to raise the level of community awareness of the game of football in Palau including its benefits with respect to physical health, character building and sportsmanship, through an aggressive social marketing campaign. Through increased public support and awareness, the PFA will benefit from increased membership to help carry out goals and objectives of the Association. Further we want to promote football and its rules to the general public in Palau, to create a contributing awareness towards football programs and development.
There is no systematic development plan. Such a plan is essential to development of the sport. We have very little administrative infrastructure with which to develop needed plans – the Board members are all volunteers who are double and tripled up with other community commitments and full time employment.
There is no ongoing support for supplies (balls, nets, etc.).
Looking ahead
We believe we can promote fun, fitness, sportsmanship, character and team building in a tobacco free environment. Team sport can help to develop social skills of youth in addition to providing a fun avenue for physical exercise and active living.
The benefits of sports development and football in particular are great. It is a game that requires little equipment and with proper training available, can be played by everyone regardless of size or height.