Referee Green Shirt Program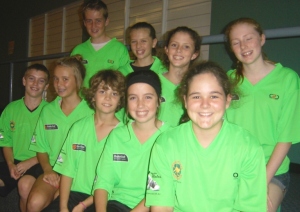 If you see Officials and Umpires wearing this shirt then it's important for you to know that they are beginners.
As with any 'learner' they may make mistakes. Give them a chance to develop their skills without harassment and abuse. They are doing their best. * Be helpful and give constructive feedback to your sport via the correct channels. *Help us to help you by supporting our officials and umpires.
Background
Most sports have difficulty recruiting, training and retaining officials. Between 1997 and 2001, the number of officials in Australian sport dropped 26%. A recent survey conducted by the Australian Sports Commission identified that harassment, abuse and lack of respect for officials were major causes of the declining number of people officiating.
Aims of the Coloured Shirt Program

Make new officials easily identifiable, so that they are easy to recognise and support

Promote this program to the sports community to raise awareness and increase the recognition and support of new officials

Assist in reducing pressure and lessening abuse and conflict directed towards new officials

Create a culture of support towards these new officials via the education of players, spectators, coaches and the media about Codes of Conduct, Play By The Rules, Sideline Rage and Sport Rage