History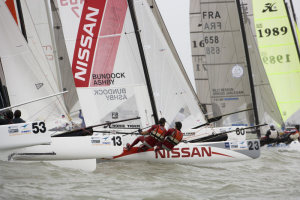 During the early 90's there were a plethora of different catamaran designs being sailed, all with different handicaps and performance characteristics. That all changed with the introduction of the formula 18 box rules. For the first-time manufacturers, could build boats to the rules and sailors could now race without handicap despite not having the same brand or design of boat.
The concept was an immediate hit with the class having an unprecedented growth between 1993 and 2000 which continued to this day.
In 2003 the Australian Formula 18 Association was founded. Considering the Association had only been going for a few years hosted the worlds in 2007 in Yeppoon QLD. Already nearly 50 Australian boats competed and was considered at the time a very successful event.
After 2007 the post worlds blues set in, fleets dwindled and it did take a few years to recover. With strong support from the local manufactures and volunteers within the association the class is now stronger in Australia than has ever been before.