Taipan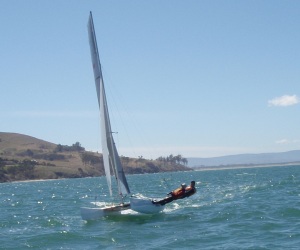 Taipan 4.9
The Taipan 4.9 is either constructed professionally from plastic (glass reinforced) or can be home build from plywood. New plastic boats are only available from the manufacturer AHPC, however amateur builders can buy plans to build a plywood boat.
Designed by Greg Goodall And Jim Boyer in the early 1980s the 4.9 meter Taipan was a development of the Mosquito catamaran, lighter than the Hobie 16, and more similar to the A class in hull design. The sail plan had a higher aspect, and it was lighter overall weight than most North American designs. Rigged and ready to sail the 4.9 weighs a minimum of 231 lb (105 kg). Other features include a wing mast, and later on a spinnaker. Like the Mosquito and Cobra class rules to sail the boat cat rigged (mainsail & more recently with spinnaker for solo sailing) or sloop rigged (Main, Jib & spinnaker for two up sailing). A modified Taipan, with some modifications such as a wider beam and a self-tacking jib, has become one of the foundation boats for the Formula 16 racing class.
Specifications
Length 4.95 m (16 ft 2 in)
Beam 2.34 m (7 ft 8 in)
Mast (H) 8.5 m (27 ft 9 in)
Weight Rigged 105 kg (231 lb)
Sail Area – Main 14 m² (147 ft2)
Jib 4.2 m² (45 ft2)
Spinnaker 17.5 m² (188 ft2)
Crew 1 (cat rigged) or 2 (Sloop Rigged)
The F16 spec 4.9 has a 2.5 meter beam and a self tacking jib.