Home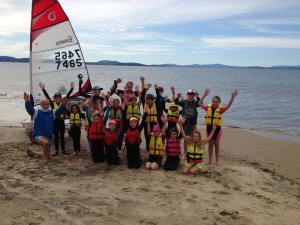 The Lauderdale Yacht Club
History
The Lauderdale Yacht club was originally a group of sailors casually sailing out of Frederick Henry bay with no clubhouse or any kind of facilities. The first races were held in 1977. After a lot of negotiation with the Clarence City Council it was agreed that current location at Roaches beach would be used.
In 1981 the cobra national titles were held at the Lauderdale yacht Club, with close to 60 starters and the only real structure on the grounds being a large "dolls house" It was decided to start building. Construction started in 1981 and was completed in 1983. Alan Gardner was the commodore at the time and did much of the engineering and organisation.

Over the years the LYC has played host to many national and state title events, including cobra, moth, nacra and paper tiger national championships.

Today
The club provides sailing training to youth and adults. We have a fleet of Bic Open's Sabots, Puffin Pacer and lasers that are sailed on Sunday mornings. More advanced juniors are welcome to participate in racing in the afternoons
The LYC organises racing for catamarans and any off the beach class that wish to sail with the club. In the past we have enjoyed sailing with the b14 skiffs, moths, sharpies, and a host of other sailing craft.
Recently the Australian paper tiger nationals were held at the LYC and were a very well-polished event that attracted a lot of attention from many local and national sailors.
Aiming to be a friendly and community orientated the atmosphere is warm and welcoming
The LYC is affiliated with Australian Sailing which allows our members to compete at all levels of the sport.